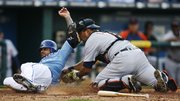 Kansas City, Mo. — Everything was shaping up for the Royals on opening day.
Zack Greinke was outdueling Justin Verlander, and Kansas City's revamped lineup got to the Detroit ace for six hits and four runs.
Then came the Royals bullpen.
Luis Colon, Robinson Tejeda and Juan Cruz allowed six hits and six runs in the seventh inning Monday, and the Detroit Tigers rallied for an 8-4 victory over the Royals.
"We didn't do our job," Colon said. "It was just a tough game. We played well. It just didn't work out good. It was a tough game."
Detroit's bullpen, meanwhile, shut out the Royals through four innings on a windy opening day.
"It didn't look too good for a while, but we hung in there," Tigers manager Jim Leyland said. "They have some good arms coming out of the bullpen, and fortunately we were able to get to to them. Next time it might be our bullpen that stumbles."
Greinke departed after six innings with a 4-2 lead after allowing six hits and one earned run.
"Zack showed us why he won the Cy Young Award last year," said Detroit outfielder Johnny Damon, who had a two-run double in the seventh. "All of his pitches are polished. But we just caught a nice streak there as soon as he got out."
Detroit reliever Joel Zumaya, in his first regular-season appearance since extensive surgery on his right shoulder, got the victory. Hitting 103 once on the radar gun, he threw 12 pitches, 10 for strikes.
He seemed to be throwing with all the power and bite that made him one of the league's most feared middle relievers before the surgery.
"I can't feel any better right now," Zumaya said. "Can't feel any better."
Tejeda (0-1) got just one out and was charged with three runs.
Verlander gave up six hits and four runs in five innings.
Copyright 2018 The Associated Press. All rights reserved. This material may not be published, broadcast, rewritten or redistributed. We strive to uphold our values for every story published.