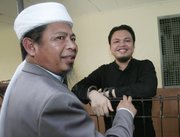 Jakarta, Indonesia — It plays out like any ordinary chat between friends on Yahoo Messenger, but the subject matter is chilling: "thekiller" is looking to mesh his Indonesian militant network more deeply with al-Qaida in its Pakistani heartland.
"Come to Pak," he is told by "SAIF-a," the Pakistani at the other end. "The seniors say, send one of your boys here to represent your group."
But beware, "SAIF-a" warns. With the U.S. stepping up its rocket attacks, "The brothers are very worried, in Waziristan all missiles hit very accurately. It means someone inside is involved."
The exchange appears in transcripts of Internet chat sessions recovered from the computer of Muhammad Jibriel, identified in the documents as the man suspected of using the screen name "thekiller." Jibriel, a 26-year-old Indonesian and well-known propagandist for al-Qaida, is currently on trial, accused of helping fund last year's twin suicide bombings at luxury hotels in his country's capital, Jakarta. He claims the transcripts are fabricated.
More extensive links
The 40 pages of conversations are in a police dossier that provides a rare glimpse into the inner workings of Jemaah Islamiyah, Southeast Asia's main extremist group, suggesting it and allied networks in the region have more international links than was previously assumed.
Since the chats took place, from mid- to late 2008, a sustained crackdown on Southeast Asian groups has continued, resulting in the arrest of Jibriel and the execution of the man identified in the police dossier as one of his most prominent conversationalists.
But the chats refer to other people engaged in contact with international extremists, and experts believe such ties likely continue.
"The transcripts are a wake-up call," said Sidney Jones, a leading international expert on Southeast Asian terror groups. "They show that Indonesian links to Pakistani and Middle Eastern terror groups are real and dangerous, even if limited to a few individuals."
The 800-page police dossier was given to lawyers and judges involved in Jibriel's juryless trial but is not part of the indictment. It was obtained by The Associated Press from someone close to Indonesian law enforcement who requested anonymity because the disclosure is sensitive.
Al-Qaida recruitment
Indonesian police declined to discuss the chat sessions, or say whether any Indonesian militants had left for Pakistan since the conversations took place.
The participants talk about sending money and recruits to al-Qaida. They discuss in detail the progress of a credit card fraud involving several Western banks to fund terror activities. They refer to allied militant cells or contacts in Cairo, Saudi Arabia and Iraq.
The man identified as Jibriel reminisces fondly about time spent in "Kash" (Kashmir), where he says he was taught to fire sniper rifles and shoulder-held rockets. He mentions a trip he made in late 2007 to the Pakistani region of Waziristan where he met with al-Qaida and Taliban leaders, including someone called Abu Bilal al Turki, who he says was "still looking young."
The chats are in a mix of Indonesian, English, Urdu and Arabic. Some of what is said seems to be in code. Slang, shorthand and "smiley face" emoticons stud the text.
The communications take an extraordinary turn as they are joined by "istisyhad," identified in the police dossier as Imam Samudra, a mastermind of the 2002 Bali nightclub bombing. At the time of the chats he was on death row, yet he was communicating from his cell on a smuggled laptop.
The police dossier says Jibriel used several aliases to talk to Samudra, even seeking advice on his turbulent relationship with a militant sympathizer he wants to marry. At one point he asks Samudra "to pray that she and I stay strong and become a great jihad partnership."
In another chat he offers to help Samudra keep in touch with al-Qaida from death row. "If you want to send an e-mail to AQ directly there, I can arrange that," he writes. Samudra was executed by firing squad in 2009.
The prosecution is leaning heavily on an e-mail hacked by the FBI at the Indonesians' request in which Jibriel allegedly asks his brother in Saudi Arabia for money to finance what he claims will be the biggest attack since 9/11, and talks about giving the funds to the organizer. The reference is to the twin hotel attacks, in which seven people died.
Jibriel has claimed the e-mail is fabricated, and says the same of the chats.
"The police have made this up," he said, speaking to the AP through the bars of a cell before a recent court hearing. "I know about technology, and I know how easy it is to create something on a computer."
Copyright 2018 The Associated Press. All rights reserved. This material may not be published, broadcast, rewritten or redistributed. We strive to uphold our values for every story published.