Photo Gallery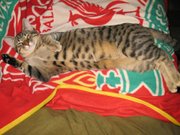 Pet Post: 2010
There are about as many leash varieties as there are dog breeds. First, leather is recommended over nylon or fabric. You may pay a bit more, but the leash will last longer, and the leather just gets more soft and supple with use.
Nylon is hard on the hands, can be difficult to grip and prevent from sliding out of your hand, and can actually cut you if your dog suddenly pulls ahead.
Second, a bolt snap at the end is a must. Some leashes have different and sometimes spring-loaded snaps which often fail, but a bolt snap is always reliable and built to last.
Third, make sure the leash and bolt snap are the right size and weight for your dog. A Sheltie doesn't need the extra weight of an inch-wide leather leash with a heavy bolt snap, just as a Mastiff shouldn't be attached to a quarter-inch lead — he'll snap it the first time he tugs on it.
Retractable leashes are great for walks out in open spaces, where you can allow your dog more freedom to run around while still maintaining leash control.
Copyright 2018 The Lawrence Journal-World. All rights reserved. This material may not be published, broadcast, rewritten or redistributed. We strive to uphold our values for every story published.