On the street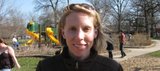 Nine months. It was hanging over his ears.
Photo Gallery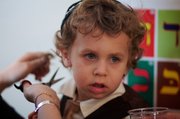 Mendel Tiechtel's first haircut
A child's first haircut is definitely one worth documenting: barbershop photo or video and maybe even a lock of hair for a keepsake. But for Mendel Tiechtel, his first haircut is a party. The kind with cake, cookies and other goodies.
The spring-themed celebration, complete with flowers as centerpieces and kiddie garden tools as utensils, is part birthday party, ancient ritual and graduation. Add them together and you get the Jewish tradition called upshernish.
"In Judaism, we believe very strongly that a child is like a tree. In order for a tree to grow properly, it needs to be taken care of from the moment it was harvested, from the moment you plant it," says Mendel's father, Rabbi Zalman Tiechtel. "Same thing for a child as well."
Meaning, simply, that by the time a boy is 3, he has received the nourishment needed to have grown to the point where he can begin formal religious training.
The beginning of that training is symbolized with the upshernish, or the boy's first haircut. During the haircut, which is performed by friends and family members during a party in the child's honor, the child's side locks, called the payot, stay intact as per tradition.
Another change taking place at age 3 is the boy begins to dress differently — wearing a kippah (skullcap) and tzitzit (tassels hanging from his shirt).
The first person to cut Mendel's curls at his upshernish was his mother, Nechama, who, along with Tiechtel, runs the Chabad Jewish Center, 1203 W. 19th St.
"I've been educating him since he was born, but now it's official," says Nechama, mom to Mendel and siblings Mina, 4, Yosef Meir, 19 months, and Levi, 2 weeks. "The concept of educating a child just means so much to a parent. So, when he turns 3 years old, it's like one of those very momentous occasions."
That occasion also includes a display of some of the education he's had already — with boys like Mendel reciting a few words of Hebrew and lines from the Torah.
So, why the age of 3? Tiechtel says that that's the age when a child has enough perspective to understand that his education has begun.
"The time that the child really makes that transition from just doing things to understanding a little bit and finding real relevance in everything, that's when a child turns 3," Tiechtel says. "That's when a child begins to have a little bit more maturity, clarity — to gain understanding about what things mean in life."
Little girls have their own version of the ritual, but instead of the haircut, they begin to light Shabbat candles and dress demurely.
The next stop for a party of this magnitude for Jewish boys like Mendel is 10 years later at his bar mitzvah, which signifies his entry into adulthood and responsibility for keeping all of the Torah's commandments. For a girl, this happens at a bat mitzvah at age 12.
"In fact, at the end of the party we invite everyone to come to the bar mitzvah, you know, we know when it's going to be, when he turns 13," Tiechtel says before joking, "The wedding, which is after that, that we don't know."
Copyright 2018 The Lawrence Journal-World. All rights reserved. This material may not be published, broadcast, rewritten or redistributed. We strive to uphold our values for every story published.