Port-au-Prince, Haiti — The rubble from Haiti's shattered capital is rising in heaps at the port, dumped for sorting and recycling by a fleet of heavy, exhaust-belching trucks.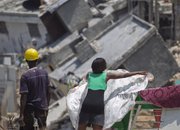 A tangle of twisted metal and broken blocks, it's an eyesore for now. But officials planning the reconstruction see only value in the debris: material to build roads, expand the waterfront and try to make Port-au-Prince better than before the Jan. 12 earthquake.
About 90 percent of the construction debris can be recycled. Already, the rubble has been used to expand a jetty at the port and build ramps for heavy equipment involved in the cleanup.
"Debris ends up having a number of lives. It's not just to be gotten rid of," said Mike Byrne, USAID's senior debris expert. "The recycling of the rubble, and the potential uses of it, could become economic agents for recovery."
A large-scale cleanup is just beginning to tackle piles of rubble from the magnitude-7 quake, which generated 20 million to 25 million cubic yards — enough to fill the Louisiana Superdome five times.
Trucks brimming with smashed concrete are now inching their way through the hilly, congested streets of Port-au-Prince. While most roads have been cleared enough for cars to pass, drivers say the biggest problem now is the return of the capital's notorious traffic.
At the sorting facility, which receives roughly 80 trucks a day, workers separate rubble, rebar and wood by hand — occasionally finding human remains from the quake that killed a government-estimated 230,000 people.
Once sorted, the debris is expected to aid a government rebuilding plan that decentralizes the country and eases congestion in the overcrowded capital. One key use would be to fill in a waterfront promenade in Port-au-Prince, said Gerard-Emile "Aby" Brun, the chief government adviser on debris management.
"The loss by nature creates a window of opportunity to do things a better way," Brun said. "I am convinced it will be a better Port-au-Prince in the short term, within three to five years definitely."
Copyright 2017 The Associated Press. All rights reserved. This material may not be published, broadcast, rewritten or redistributed. We strive to uphold our values for every story published.