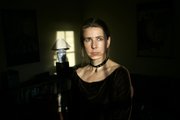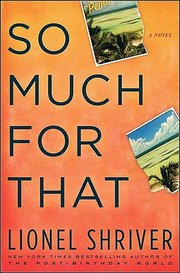 Washington, D.C. — Lionel Shriver's most well-known work, "We Need to Talk About Kevin," was a firestorm meditation on maternal ambivalence, furtively passed around middle-class mommy circles after its 2003 publication. "Kevin" was "about" a school massacre in the same way "Anna Karenina" is "about" adultery, and it required readers to reconsider such basic notions as unconditional mother's love and unforgivable evil. Her other novels have been similarly brutal, with topics ranging from population control to terrorism.
In Britain, where Shriver, 52, has lived for two decades, she is famous, a winner of the prestigious Orange Prize. She's less well known in the States ("When I do appearances in the U.K. they're sold out; when I come to my own country if 30 people show up," it's big). She dearly hopes this will change with her new novel, a further example of her skillful uncovering of burning issues just as they detonate.
"So Much for That" is "about" the American health-care system, which is to say it is about how illness and insurance can deplete savings, kindness and humanity. Protagonist Shepherd Knacker's wife was recently given a diagnosis of incurable mesothelioma; his best friend deals with a teenage daughter's horrific genetic disorder. Chapters open with ever-dwindling dollar amounts, as Shep sees his financial security disappear and guiltily wonders exactly how much Glynis' life is worth.
Shriver happened to be in Washington the day after the House of Representatives passed the health-care bill.
"I have supported the bill, but I wish it were better," she says at lunch near American University. "I support single payer, and I resented the fact that it was taken off the table. ... I did have a fun little moment yesterday in my hotel, though, turning to C-SPAN and realizing, 'This is happening right over there.'"
Body over mind
Shriver, who says she normally skips lunch, is tiny. Tiny distance-runner legs, tiny black sweater — the kind of build that might be called "elven" on some women. For Shriver a better word might be "concentrated." Intense. She has a deep, forceful voice, and of it she demands grammatical perfection, correcting herself when she uses the phrase "could care less," when she really means "couldn't."
I ask if she'd received flak for writing about the American health-care system when she spends most of the year in England, pointing out that she'd experienced the heat for the reverse: She featured a snooker player in her last novel, and British critics were outraged that an American dared to delve into a beloved national pastime.
"Brits are very possessive of themselves as material," she says, exasperated. "They're also total hypocrites, because their writers cast American characters and use American settings to their hearts' content. ... Americans aren't like that. It's one of the things I like about them. As long as you say something halfway intelligent, they're perfectly happy for foreigners to have opinions."
The American reviews of "So Much for That" have been kind, praising the book's unflinching look at the death industry, its excrement-and-all portrayal of dying.
"Dying is not a religious experience," she says. "It's the antithesis of revelation. We have all kinds of myths about illness, like that it's about mind over body. (But in sickness) you are the body. It's body over mind. That's the revelation. It's grim."
The character Glynis acquires not wisdom through illness but bitterness, gleeful when the suffering of others approaches her own. The book's plot is based on the experiences of Shriver's friend, a metalsmith Shriver met in art school who contracted the cancer through exposure to materials containing asbestos. After her friend died, her husband provided copies of the hospital bills, all $2 million worth, for Shriver's research.
"It's one of those diseases where once you have the symptoms, you're going to die," Shriver says. "That disease has a very long gestation period — 25, 30 years. Though I don't think about it very often, I also trained as a metalsmith. I could have easily worked with those same products.
"If I am ever diagnosed with mesothelioma," she says, "I'm going to jump off a bridge."
Gratitude for wellness
Hardly a message of reassurance to her sick readers, but Shriver has never been viewed as particularly warm. She famously wrote "Kevin" while deciding whether to have children; the experience convinced her it would be a mistake (she is married to jazz drummer Jeff Williams). Her name comes from an act of teen-age willfulness: When she was in her teens, she informed her family she was no longer to be called Margaret Ann.
Writing "So Much for That" has brought out, if not feelings of sentimentality, then at least feelings of gratitude for the wellness most of us take for granted.
"I don't know how long this feeling is going to last, but the best thing the book did was to push me to really consciously treasure feeling fine. It's very difficult to feel grateful for the absence of something, but feeling well is really the precondition for every pleasure."
The lunch plates cleared away, Shriver reflects on what the U.S. fame she craves would bring to her career. She's not always sure it would be a good thing. Already, success has meant that she's constantly interrupted by interview requests that leave her less time to write. She knows she could turn some down, but "I think I'm too trapped by a solid 12 years of what I would classify as professional failure," until "Kevin" became popular. "I have this immense terror of being sent back to 'Go.'"
Fame is an odd thing, she says. "It solves a surprisingly small number of life's problems. It doesn't get me out of going on a nine-mile run when I don't feel like it. ... It doesn't get me out of getting old, which I think is a giant drag. It doesn't really make anyone like me better. ... It doesn't keep my friends from dying."
Copyright 2018 The Lawrence Journal-World. All rights reserved. This material may not be published, broadcast, rewritten or redistributed. We strive to uphold our values for every story published.