Washington — As census workers gear up to count us, they are counting themselves lucky to be employed.
This once-a-decade temporary work force is giving a timely boost to the battered job market. Census workers accounted for nearly a third of the jobs added in March, when hiring occurred at the fastest pace in three years.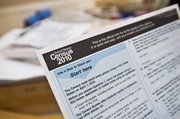 Over the next two months, another 600,000 to 700,000 census jobs will be added, putting $10 to $25 an hour into the pockets of some desperate job seekers.
Although these jobs will only last through mid-July, economists say they will provide a fortuitous stream of income to families and act as an employment bridge until summer, when more private employers are expected to ramp up hiring.
The census hiring also comes in a year when President Barack Obama's economic stimulus package will peter out. The nonpartisan Congressional Budget Office estimates that stimulus spending added more than 1 million jobs last year.
"It comes at a good time because you're transitioning from an economy that's slowly recovering to sustainable growth," said John Canally, an economist at Boston-based LPL Financial. "This is a good patchwork until then."
Still, the census paychecks won't have a meaningful impact on the overall economy.
The government has set aside $7.8 billion to conduct the census. That pales compared with last year's stimulus package of $862 billion.
Yet the impact of these jobs cannot be overstated for people who were out of work.
"Census to the rescue," said 24-year-old Cierra Edwards of Toledo, Ohio. "I was so far behind. Rent started stacking up, bills, diapers."
Copyright 2017 The Associated Press. All rights reserved. This material may not be published, broadcast, rewritten or redistributed. We strive to uphold our values for every story published.