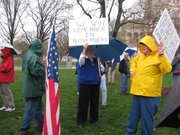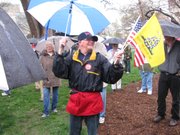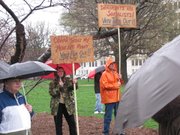 Topeka — More than 200 people gathered Friday outside the Capitol in the rain during a Tea Party rally. Signs at the rally, and comments from individuals, criticized federal spending, Democrats, the new health care law and President Barack Obama.
Jeanne and Bob Sebree of Tecumseh were among the crowd. Bob Sebree said he is a retired teacher who taught at West Junior High in Lawrence for 20 years.
They said the federal government was spending too much and not listening to the public.
Jeanne Sebree said Obama "wants to rule instead of govern."
The rally was part of a 43-city national tour of the Tea Party Express, which started in Nevada, and will end up in Washington D.C. on April 15.
Ed Williams, a volunteer from Reno, Nev. was handing out United States and "Don't Tread on Me" flags for donations.
Williams said he joined the tour because "I want to make a difference."
He said taxes were too high, the government was spending too much and the new health care law was unconstitutional.
Roger Thomas, a retired government worker from Olathe, criticized what he called Obama's "rampant run to socialism."
Copyright 2017 The Lawrence Journal-World. All rights reserved. This material may not be published, broadcast, rewritten or redistributed. We strive to uphold our values for every story published.