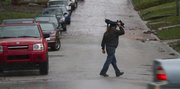 Kansas weather updates, via Twitter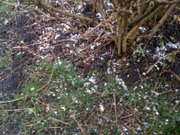 A line of severe thunderstorms rolled through Douglas County early Friday morning.
A severe thunderstorm warning was issued from about 9 a.m. to 9:30 a.m. for Douglas and Jefferson counties and from about 9 to 9:45 for Leavenworth and western Wyandotte and Johnson counties. The warning was extended until 10:15 for far eastern Wyandotte and Johnson counties.
A line of heavy rains was expected to remain for some time longer.
At 8:59, radar indicated a storm capable of producing quarter-sized hail was moving through the area. The storm was located 11 miles west of Baldwin City and moving north.
At 9:14 a.m., trained weather spotters reported to the National Weather Service quarter-sized hail in the area of central Lawrence. The storm continued to move north at speeds of about 70 mph.
Radar also indicated the possibility of damaging winds with speeds in excess of 60 mph.
Power was out in Baldwin City for a time but had returned by 10 a.m. Westar Energy reported 2,395 customers without power as of 10:05 a.m. Most of the outages were concentrated in the area immediately north of the intersection of Sixth and Iowa streets or in areas of southwest Lawrence and rural areas of Douglas County in the same immediate vicinity.
A concentration of outages was also reported near Pleasant Grove hill along U.S. Highway 59.
Stay with LJWorld.com for updates.
Copyright 2018 The Lawrence Journal-World. All rights reserved. This material may not be published, broadcast, rewritten or redistributed. We strive to uphold our values for every story published.