Photo Gallery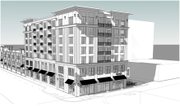 Proposed seven-story building at Ninth and New Hampsire
Plans are in the works for a $9.5 million, seven-story, mixed-use downtown building that would rival the height of the U.S. Bank Tower.
City Hall leaders Friday were reviewing a proposal for the project slated for Ninth and New Hampshire streets — the vacant lot immediately east of the U.S. Bank Tower.
"I think this could be a fantastic project," said Lawrence businessman Doug Compton, who is leading the development group. "I don't think downtown has seen a project like this for quite awhile."
The project would include 55 apartments — a mixture of studios, one-bedroom and two-bedroom units — on the top five floors. The second floor would be reserved for an office user. Compton said preliminary plans call for his First Management company to occupy the space, which would add about 50 employees to the downtown work force.
The ground floor would be retail. A health and fitness club and a restaurant are the leading proposed uses at the moment.
"Downtown definitely needs more living units, and this is a real good area for it," said Mike Treanor, a Lawrence architect who also is a member of the development group.
Compton said he envisions the project attracting a mix of young-professionals and retirees who want to live in downtown but don't necessarily want to own a condo.
"The downtown apartment market has been very strong," Compton said.
The building is proposed to tie into the existing city-owned, three-story public parking garage that is immediately south of the site. Plans call for the two structures to be connected by new interior openings.
The building would be one of the tallest in downtown. Plans submitted to the city show the building at a little more than 180 feet tall. That would make it just a few feet shorter than the U.S. Bank Tower, the tallest building on Massachusetts Street.
"We have tried to hit all the historic guidelines and make sure it will be appropriate for that intersection," Treanor said.
Compton said the development group has not made a final decision to proceed on the project. But construction bids on the project went out this week, and Compton said a final decision to build is expected in about 60 days. Treanor said the group filed the plans with the city now to show city leaders what was possible on the site.
The property already is zoned for downtown commercial development. The project would need to go through the normal site plan and historic review processes.
If deemed feasible, the project could begin construction in the fall.
Copyright 2018 The Lawrence Journal-World. All rights reserved. This material may not be published, broadcast, rewritten or redistributed. We strive to uphold our values for every story published.