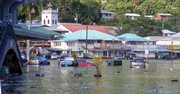 Pago Pago, American Samoa — A powerful Pacific Ocean earthquake spawned towering tsunami waves that swept ashore on Samoa and American Samoa, flooding and flattening villages, killing at least 63 people and leaving dozens missing.
Cars and people were swept out to sea by the fast-churning water as survivors fled to higher ground, where they remained huddled hours after the quake struck early Tuesday. Signs of devastation were everywhere, with a giant boat washed ashore lying on the edge of a highway and floodwaters swallowing up cars and homes.
The quake, with a magnitude between 8.0 and 8.3, struck around dawn 120 miles from American Samoa, a U.S. territory that is home to 65,000 people.
Four tsunami waves 15 to 20 feet high roared ashore soon afterward, reaching up to a mile inland, Mike Reynolds, superintendent of the National Park of American Samoa, was quoted as saying by a parks service spokeswoman.
Hampered by power and communications outages, officials hours later struggled to determine damage and casualties. At least 63 people were killed, but officials acknowledged the death toll seemed sure to rise. "I don't think anybody is going to be spared in this disaster," said acting American Samoa Gov. Faoa A. Sunia, who declared a state of emergency in American Samoa.
Gov. Togiola Tulafono, in Honolulu for a conference, told reporters that more victims could be found when rescuers reach areas that are inaccessible by roads. He said a member of his extended family was among the dead.
New Zealand's acting Prime Minister Bill English said any death tolls for the Samoas were only "guesses" so far, and that there were unconfirmed reports of five additional people dead in the island nation of Tonga, west of the Samoas. He said a New Zealand P3 Orion maritime surveillance plane would reach the region later today to search for survivors.
Australia's Department of Foreign Affairs and Trade said an Australian woman has been confirmed killed in Samoa, three other Australians have been hospitalized and six other Australians remain unaccounted for.
Mase Akapo, a meteorologist for the National Weather Service in American Samoa, reported at least 19 people killed in four different villages on the main island of Tutuila. Officials reported at least 50 injured.
In neighboring Samoa, an Associated Press reporter saw the bodies of about 20 victims in a hospital on the main island of Upolu and said the surrounding tourist coast was devastated.
AP reporter Keni Lesa said colleagues had reported seeing up to 40 bodies in wrecked villages, but that the additional deaths could not immediately be confirmed.
American Samoa is home to a U.S. national park that appeared to be especially hard-hit. Reynolds, the park superintendent, said he had been able to locate only 20 percent of the park's 40 to 50 employees and volunteers.
Residents in both Samoa and American Samoa reported being shaken awake by the quake, which lasted two to three minutes and was about 20 miles below the ocean floor. It was followed by at least three large aftershocks of at least 5.6 magnitude.
In Washington, President Barack Obama issued a disaster declaration, making federal funds available to victims in American Samoa.
U.S. Coast Guard spokesman Lt. John Titchen said a C-130 was being dispatched today to deliver aid to American Samoa, assess damage and take the governor back home.
Copyright 2018 The Associated Press. All rights reserved. This material may not be published, broadcast, rewritten or redistributed. We strive to uphold our values for every story published.