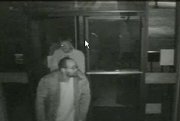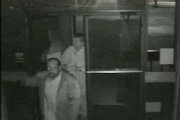 Police released surveillance pictures Wednesday of two men they believe broke into a Lawrence bowling alley.
The burglary occurred at 3:30 a.m. Sept. 21 at Royal Crest Lanes, 933 Iowa, said Sgt. Bill Cory, Lawrence police spokesman. The pictures show the men walking into the business.
Cory said a small amount of cash was stolen and "a lot of damage" was done to an ATM machine and video games inside the business.
Anyone with information about the suspects or the burglary should call Crimestoppers at 843-TIPS.
Copyright 2018 The Lawrence Journal-World. All rights reserved. This material may not be published, broadcast, rewritten or redistributed. We strive to uphold our values for every story published.