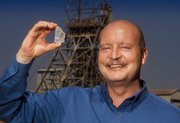 Johannesburg — A diamond the size of a chicken egg was found last week at South Africa's Cullinan mine. The diamond may be among the world's top 20 high-quality gems.
In the photo at left, Johan Dippenaar, chief executive of Petra Diamonds Ltd., showed off the 507.55-carat white diamond Tuesday.
It was discovered Thursday at the mine northeast of Pretoria, South Africa.
The mine also produced the largest diamond ever found, the Cullinan, at 3,106 carats in the rough. That finished stone is set in Britain's Imperial Scepter as part of the Crown Jewels.
Copyright 2018 The Associated Press. All rights reserved. This material may not be published, broadcast, rewritten or redistributed. We strive to uphold our values for every story published.