Photo Gallery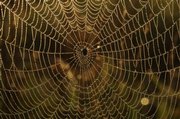 Spiders: Intricate webs add to tapestry of fall's landscape
If you're seeing more spiders than usual hanging out in their webs in hopes of trapping another hapless insect, it's not just in your head.
Deborah Smith, a Kansas University entomologist who studies the eight-legged arachnids, said yes, while the actual number of spiders is about the same, a number of species native to the area are more noticeable in the fall.
"They've gotten big and fat over the summer. They're ready to lay eggs, and they're spinning great big orbs, so they look really conspicuous this time of year," Smith said.
While the webs look beautiful to Smith, she knows they can creep some people out. But most spiders in the area pose no threat to people, she said.
"There are a few spiders that people should be concerned about," including the black widow and brown recluse, Smith said. "For the most part, most of the ones you would encounter here, their first response would not ever be to bite a human."
How spiders create webs varies from species to species, but for the orb weavers that create the large, circular webs often found in the area, it's all hard-wired in each spider, Smith said.
"You can take a spider off a web as she's spinning it and put another of the same species on somebody else's web, and they'll be able to assess where they are in the process, and pick up where the other one left off," she said.
Of course, not everyone finds spiders as welcome guests in their home.
Business has been brisk this year at Haley Pest Control, said Joanie Haley, the Lawrence business's office manager who takes most of the calls.
"We've had a lot of calls for brown spiders, and just regular spiders, too," she said.
Lots of times those "brown spiders" can be poisonous brown recluse spiders — there's a picture on their Web site, haleypestcontrol.com — but Haley said proper identification can be difficult.
"Usually by the time someone has killed it, they can't really recognize it," she said.
Copyright 2018 The Lawrence Journal-World. All rights reserved. This material may not be published, broadcast, rewritten or redistributed. We strive to uphold our values for every story published.