Past Event
with Weird Wounds and Fortuning inside after the show
When: Saturday, October 3, 2009, 8 p.m. to 11 p.m.
Where: The Replay Lounge, 946 Mass., Lawrence
Cost: $3
-->
-->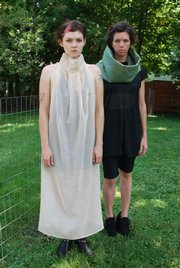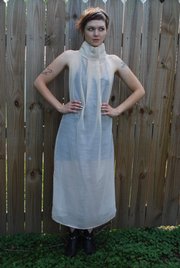 Adorn of the Dead, a benefit fashion show for LINK, will take place Saturday at Replay Lounge. I gained insider information on the show while attending a fitting hosted by Tricia Rock, local designer and stylist.
"Clothes may or may not be considered a necessity, but fashion is a recognizable extravagance," Rock says. "By hosting a benefit show, we can both highlight the talents of local artists and also assist members of our community."
Rock has transformed her basement into a walk-in closet and sewing station. Pants are stacked high on shelves, yards of fabric pile against her sewing machine stand — the evidence of her hard work and preparation for Adorn of the Dead is everywhere.
Secily Reese will be modeling a black tube dress and champagne cape designed by Rock.
"I'm excited to work with Tricia. She has a cutting-edge style that inspires me to think out of the box," Reese says. "Her looks are always unique pieces, often in combination with others that I would never think were possibilities."
The Rathaus, a local Web site, is another participant in Adorn of the Dead. Rathaus contributor Scott Starrett is behind the design concept featured on the upcoming show's flier. Starrett also created the poster for The Drunken Sailor's Tailor, a prior benefit fashion show earlier this year. For Adorn of the Dead, Starrett used interesting materials to enhance the aesthetic; for example, he incorporated "fake blood," the costume makeup commonly used by vampires and villains on Halloween. The fake-blood "coagulates" more realistically than ordinary red paint.
I asked Rock what inspired her own looks for the show.
"I used only reclaim fabrics for my collection — thrifted fabrics or material cut from discarded clothing," Rock says. "Working with a smaller selection of fabric provides me with more immediate direction; still, I am not hindered by the material, and I always deconstruct original seams to leave room for a more creative piece that is my own structural concept."
Although the designers are not required to create zombie-inspired looks, the distinct collections will surely be recognized as a community collaboration when the models drag themselves down the runway at the Replay Lounge, each one emphasizing the characteristic, zombie-like gait of Adorn of the Dead.
Copyright 2018 The Lawrence Journal-World. All rights reserved. This material may not be published, broadcast, rewritten or redistributed. We strive to uphold our values for every story published.