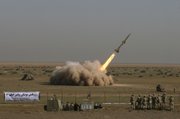 Tehran — Iran's powerful Revolutionary Guard said it successfully test-fired short-range missiles Sunday in drills meant to show Tehran is prepared to crush any military threat from another country.
The display of force comes days after the U.S. and its allies warned Iran over a newly revealed nuclear facility it was secretly constructing.
Gen. Hossein Salami, head of the Revolutionary Guard Air Force, said Iran had perfected its short range missiles to make them more accurate in tactical battlefield situations and defend the country from any attacks.
"We are going to respond to any military action in a crushing manner and it doesn't make any difference which country or regime has launched the aggression," state media quoted Salami as saying. He said the missiles successfully hit their targets.
The tests came two days after the U.S. and its allies disclosed that Iran had been secretly developing a previously unknown underground uranium enrichment facility and warned the country it must open the nuclear site to international inspection or face harsher international sanctions.
The missiles tested weren't the kind that can carry a nuclear warhead. Iran is developing such ballistic missiles, but the U.S. believes that effort has been slowed.
But the timing of the missile tests has been widely interpreted as an Iranian show of force in the face of the international storm of criticism over the secret facility.
Tehran carried out the missile tests now "to show some muscle, show some strength, and say the game is not over for Iran yet," said Alex Vatanka, a senior Middle East analyst at IHS Jane's. He noted that Iran will be meeting with the Western powers in Geneva next week.
U.S. Secretary of State Hillary Clinton said she doesn't believe Iran can convince the U.S. and other world powers at the upcoming meeting that its nuclear program is for peaceful purposes, putting Tehran on a course for tougher economic penalties beyond the current "leaky sanctions."
The Iranians must "present convincing evidence as to the purpose of their nuclear program. We don't believe that they can present convincing evidence, that it's only for peaceful purposes, but we are going to put them to the test," Clinton told CBS' "Face the Nation."
Defense Secretary Robert Gates argued that pressuring Tehran economically and diplomatically would have a better chance of changing the Tehran government's policies than military strikes against the nuclear site.
Copyright 2018 The Associated Press. All rights reserved. This material may not be published, broadcast, rewritten or redistributed. We strive to uphold our values for every story published.