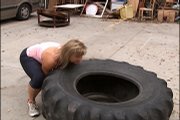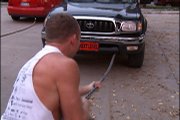 Editor's note: Reporter Mark Boyle takes us behind the scenes of news stories in the area. This week, he met up with several exercise enthusiasts who have developed a unique stage to display their hard work. Strongman/Strongwoman challenges are conducted worldwide, and on Saturday, Lawrence will be host to one. Competition will include a truck pull, tractor tire flip and an obstacle course — all bound to challenge and impress.
•••
Treadmill running, elliptical machines, bench presses and squats are traditional forms of exercise that many people are familiar with.
On Saturday in Lawrence's South Park, the exercise and athletic competition may be far different from anything you've seen before.
Through the desire to compete and the drive to create something unique, Laura Richards created Next Level Games.
The competition will feature professional athletes and workout enthusiasts as they race through the competition with $500 on the line for the men's and women's division winners.
"At Next Level, we tend to be more about strength, agility and speed so therefore we don't do a lot of long distance-type competitions," Richards said. "I wanted to build a competition that was like no other."
The competition will begin with a car/truck pull and push of 30 feet; a tractor tire flip — the tire weighs nearly 400 pounds; and a "Farmers Carry" with free weights. Following a 10-minute rest, the competitors will then take on the obstacle course followed by the "prowler" sled push.
It's demanding, exciting and also something that competitors say anyone can participate in. "I never thought I would ever be doing something like this, but it's fun and people here are so encouraging and help you feel like you can do it," said Diane Bannerman Juracek, a women's event competitor.
In the Lawrence event, competitors from four states will turn South Park into a display of raw physical strength, agility and endurance. The competition is a new event to Lawrence that organizers and participants believe spectators will be enthralled by.
"I tell my friends and they think I am crazy," said Brandon Young, a strongman competitor. "Are you ever going to use that, being able to pull a truck? No, probably not, but it's a fun way of working out for me."
To participate, log onto nextlevelrising.com or call 785-856-7755. The event runs from 8 a.m. to 8 p.m. Awards will be given to the top three competitors in each category.
Copyright 2018 The Lawrence Journal-World. All rights reserved. This material may not be published, broadcast, rewritten or redistributed. We strive to uphold our values for every story published.