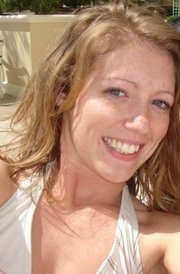 A Kansas Highway Patrol report for a Sept. 12 double-fatality accident on Kansas Highway 10 now says an Olathe man was the driver who was headed the wrong way — instead of a 26-year-old Lawrence woman.
The highway patrol originally reported that Kara Louise Morgan, a Kansas University student, was at fault in the 3 a.m. accident on K-10, about 2 miles west of De Soto. The patrol had said she was driving a 2003 Volkswagen Jetta east in the westbound lanes and struck a westbound 2000 Toyota Camry, driven by Eric Tyler Sill, 20, of Olathe.
But that wasn't the case.
Thursday morning, the patrol's online accident log listed Sill as the driver who was headed east in the westbound lanes.
Brian Russell, a Lawrence attorney who is a Morgan family friend, confirmed that troopers visited Morgan's parents last week at their Holton home. The troopers told Bob and Connie Morgan their daughter had not been driving in the wrong lanes before the head-on crash.
"What makes me sad is we buried our daughter thinking she was at fault and that she took someone else's life," Mrs. Morgan said Thursday.
Both drivers, who were wearing seat belts, died from injuries they received in the crash. The patrol has released no further details about the wreck.
The Journal-World left messages that were not returned Thursday for the troopers in Olathe who investigated the wreck. Capt. Art Wilburn, of the agency's public and governmental affairs section, said he would need information from those troopers to comment.
Morgan said troopers last week apologized and told her that initially they inferred her daughter's car was headed the wrong way because of how the vehicles were facing. But she said an accident reconstruction team determined the impact point on each car was on the front driver's side, and so the cars spun after the collision.
She also said troopers told her neither driver likely saw the collision coming because they found no skid marks on the road.
Connie Morgan said her daughter had sent her a text message earlier that night saying she was in the Kansas City area with some friends. She said toxicology reports were pending as part of the autopsies on both her daughter and Sill. Those reports typically take several weeks.
At the time of his death, Sill was taking classes at Kansas City Kansas Community College.
For two years, Kara Morgan had been a student at KU, where she was studying sports management.
"I feel relieved now that my daughter's name is cleared," Connie Morgan said. "But I feel sad for the Sill family knowing what they are going through now, because I had these same feelings for a week."
In the midst of a heart-breaking ordeal for both families, Morgan said it does offer a lesson for parents.
"They just need to keep in contact with their kids and just tell them that they love them," she said.
Copyright 2018 The Lawrence Journal-World. All rights reserved. This material may not be published, broadcast, rewritten or redistributed. We strive to uphold our values for every story published.