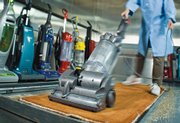 Vacuum makers are supercharging their latest wares. According to the editors of Consumer Reports, they are rolling out new models with features that might seem more suited to muscle cars than to a mundane household appliance.
No surprise, some of these models come with a bulked-up price tag. You'll also find no-frills vacuums that cost as little as $50, as manufacturers hope to boost their sales by appealing to recession-weary buyers.
CR's latest tests of upright and canister vacuums found plenty of value between the price extremes, as well as noteworthy cleaners that weigh less than the usual 20-plus pounds. Its findings include the following:
Two lightweights stand out. Vacuuming your home is enough of a chore without having to schlep a husky appliance from room to room and up and down stairs. Aware that consumers often complain about the weight of many vacuums, manufacturers have introduced lighter models.
The highly rated Hoover Platinum Bagged (UH30010COM), $400, weighs just 13 pounds and cleaned up in CR's carpet and bare-floor tests; it doesn't accept tools. The Dirt Devil Featherlite Bagless (M085845; Target), $60, also 13 pounds, is a solid performer that won't break your budget — or your back. It's a bit noisy, however.
Price doesn't determine performance. As if its Airmuscle technology didn't sound macho enough, Dyson's latest upright, the DC28 Animal, $600, has several features designed to help it clean better including a high-torque clutch. In CR's surveys, Dyson has been among the most reliable brands of uprights, no small feat considering its innovation efforts.
The DC28 also outscored its brandmates and earned a Very Good score in CR's carpet-cleaning test, a key performance area to consider. But the Hoover Platinum Bagged upright scored higher in cleaning and costs $200 less. The Kenmore Progressive 35922 upright, $350, a CR Best Buy, is $50 less than that Hoover and is rated higher than the Dyson.
Models vary within brands. Hoover occupies several top spots in CR's Ratings, yet some of its models sit at the bottom of the list. The Dirt Devil Featherlite Bagged (M085590), $50, did noticeably worse in carpet and handling tests than the company's Featherlite Bagless. And don't assume comparable cleaning from models with similar names. The Kenmore Intuition 28014, $600, has been CR's top-rated canister vac; the Intuition 29914, $500, didn't clean as well and was noisier.
How to choose
Given how often you vacuum, you will want a model that will clean well and last for years. Follow this buying advice from CR:
• Pick the right type. Uprights are best if your home has a lot of carpeting, and many are easier to store than canister models; they're usually less expensive, too. Canisters perform better on bare floors and are more stable on stairs.
• Weigh the pros and cons of bagless. Not having to change a bag might seem like a convenience. But you will have to empty a bagless model more frequently than you will a bagged machine since that type usually has a smaller capacity. Plus emptying the bin can send dust back into the air.
• Test-drive vacuums. Head to the store to evaluate the weight, overall ease of use, quality of accessories, and other aspects of models you're considering. That's especially important if you shop online. In CR's latest reader survey about appliance retailers, Amazon ranked highest for small appliances, which include vacuums. If you buy at a walk-in store, ask the retailer to match or beat the best online price. In the survey, people who haggled on small-appliance purchases saved a median of $50.
Copyright 2018 The Lawrence Journal-World. All rights reserved. This material may not be published, broadcast, rewritten or redistributed. We strive to uphold our values for every story published.