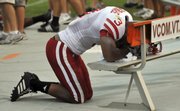 Lincoln, Neb. — Except for a few unguarded moments, Nebraska coach Bo Pelini refused to let his weekly news conference turn into a pity party.
Pelini said Tuesday that he and his 25th-ranked Cornhuskers are going to turn the fallout from last week's crushing 16-15 loss to No. 11 Virginia Tech into positive energy. He did, however, acknowledge the hurt that came from the last-minute meltdown that led to a 21st straight loss to a team ranked higher than No. 20.
"I can say that was as hard a loss as I ever encountered in football," the 41-year-old Pelini said. "I've had some hard ones. That was difficult. You know what, it's time to move on. I've moved on. I really have. It took me a little longer, but I've moved on."
Pelini said he's confident his players have, too. The Huskers (2-1) finish nonconference play Saturday night against Louisiana-Lafayette (2-1) in what will be the 300th consecutive sellout at Memorial Stadium since 1962.
"I promise you you're going to see a group of guys playing with passion," Pelini said. "You're not going to see anybody crying about what happened last week. Our guys are going to come out and we're going to play our tails off. I vow that will happen on Saturday."
Lafayette coach Rickey Bustle is expecting it.
"They're going to want to make an example of us and get back to winning," he said. "Coach Pelini has done a great job getting the attitude turned around and getting back to Nebraska football. I don't think there's any question they'll flex their muscle."
There was concern early in the week that Nebraska might be without starting quarterback Zac Lee, who missed Monday's practice. Pelini said Lee, who throws with his right arm, would start against Lafayette despite having a sore left thumb.
Lee, who had a red splint taped above and below the knuckle, said he got dinged in the first half against the Hokies. He said he had to sit out practice Monday after taking anti-inflammatory medication.
Pelini said he misspoke Monday when he said Lee had a "splinter." He meant to say he had a "splinter fracture."
A smiling Lee took a friendly jab at his coach.
"I think I have a splinter in it. Isn't that what coach Pelini said?" he said. "We didn't have a good pair of tweezers, so we left it in."
Pelini said the key for the Huskers this week is to clean up its overall play in its last game before Big 12 play opens Oct. 8 at Missouri.
"All our goals we set out to accomplish are still out there if we address it the right way," he said. "It means being a man and standing up and taking responsibility for what happened."
The Huskers led Virginia Tech 15-10 with 1:44 left and had the Hokies pinned at their 12-yard line with no timeouts left.
Tyrod Taylor completed an 81-yard pass to Danny Coale, who slipped behind safety Matt O'Hanlon, and then zipped an 11-yard pass to Dyrell Roberts for the go-ahead score with 21 seconds left, prompting Pelini to tear off his headset and fling it behind him.
"We need to use the disappointment, the rage in some ways, as fuel for the future," Pelini said. "Or you can be weak-minded and not step up and be a man and take accountability for us not coming out on top. We could divide, point fingers. We haven't done that around here."
Copyright 2018 The Associated Press. All rights reserved. This material may not be published, broadcast, rewritten or redistributed. We strive to uphold our values for every story published.