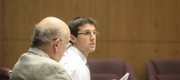 More coverage of the trial of a former Kansas University student accused of beating and kidnapping his ex-girlfriend.
A former Kansas University student convicted of the 2007 beating and kidnapping of his ex-girlfriend will not be sentenced until January.
Chief Douglas County District Judge Robert Fairchild has agreed to give defense attorneys for Matthew P. Jaeger, 24, of Riverwoods, Ill., extra time to file motions for a new trial. The judge scheduled sentencing for Jan. 25. It originally had been set for this Friday.
In August, jurors convicted Jaeger of kidnapping, aggravated battery and making a criminal threat.
Prosecutors accused Jaeger confronting his ex-girlfriend, Francie Biggs, 23, at her northern Lawrence apartment the night of Oct. 9, 2007, and threatening Dylan Jones, the man who was with her.
Biggs, who spoke out after the verdict and agreed to be identified by the Journal-World, also testified that Jaeger choked her unconscious. She awoke with injuries to her external vaginal area.
The defense said that scientific evidence in the case pointed to Biggs injuring herself with a fall onto a bed rail and that Jaeger was trying to help her.
Jaeger, who remains in custody in the Douglas County Jail, faces at least four years in prison.
Copyright 2018 The Lawrence Journal-World. All rights reserved. This material may not be published, broadcast, rewritten or redistributed. We strive to uphold our values for every story published.