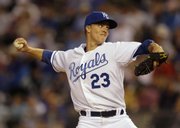 Kansas City, Mo. — Trey Hillman thinks Zack Greinke should make room in his trophy case for the Cy Young Award.
Greinke bolstered his Cy Young credentials by holding Boston to two hits in six scoreless innings, leading the Royals to a 5-1 victory over the Boston Red Sox on Tuesday night.
"I am biased," the Royals manager said. "Part of that bias is I've seen all his starts. I have a very difficult time believing there is anybody better in the major leagues, that's as good a pitcher as Zack Greinke is in the year 2009."
Greinke is 3-0 with a 0.26 earned-run average in his past five starts, allowing 18 hits and one earned run in 35 innings. With the stingy stretch, Greinke has lowered his major-league-leading ERA to 2.08.
Greinke (15-8) became the first Royals pitcher to win at least 15 games in a season since Paul Byrd won 17 in 2002. Byrd (1-2) was the losing pitcher Tuesday. Greinke has two starts left and knows the Cy Young could be at stake.
"You can't have a bad game," he said. "Any mistakes can cost you."
Greinke's record likely would be more impressive if the Royals gave him better run support. He has failed to earn a win in six starts in which he allowed none or one run.
"He'd be a 20-game winner," Hillman said.
Greinke left his previous start after five scoreless innings at Detroit with a bruised elbow. He was struck by Miguel Cabrera's line drive in the fourth.
"There was no pain," Greinke said. "I was getting kinda tired in the sixth. I didn't feel crisp in the last inning. I thought I was pretty good, but it wasn't amazing. I thought my changeup was as good as it's been all year."
Hillman decided 91 pitches was enough against the Red Sox "with what he had incurred in his last outing with the contusion."
"He was free and easy with his delivery," Hillman said. "In the sixth, I felt like he began a labor just a little bit. With what happened, it just didn't make any sense to push him even to 100 pitches. He pitched a heck of a game."
Dustin Pedoria doubled in the first, and Victor Martinez singled in the sixth, extending his hitting streak to 21 games, for the only hits against Greinke.
Copyright 2018 The Associated Press. All rights reserved. This material may not be published, broadcast, rewritten or redistributed. We strive to uphold our values for every story published.