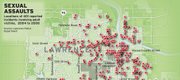 In the past five years, more than 450 adult sexual assaults have been reported in Lawrence. There's a rape in Lawrence every four days. Each case represents an instance where someone's life has been irrevocably changed. LJWorld.com, the Lawrence Journal-World and 6News are taking a deeper look at what those numbers really mean.
Rape victims are being turned away from Lawrence Memorial Hospital, and it's creating a risk to the community, according to claims made by Douglas County District Attorney Charles Branson.
A series of events at LMH on Sunday sent the prosecutor over the edge. He said two college-age rape victims were told to go to out-of-town hospitals to be examined.
"This is a problem that's been ongoing for a while. We've had women and children (sent) to facilities outside of our community for years now," Branson said. "We just have to get something done."
After waiting in the hospital for several hours on Sunday, Branson said, the two victims were told they would have to go to Stormont-Vail Regional Health Center in Topeka to be examined. Two other victims were examined at the hospital.
LMH employs sexual assault nurse examiners who are trained to collect evidence for "rape kits," which prosecutors and investigators use to help solve the case. Branson claims the hospital doesn't have enough nurses for the number of sexual assaults that occur in Douglas County.
On Sunday, there weren't enough nurses available to treat all four rape victims who showed up at the hospital, Branson said.
The district attorney wrote a firm letter to Gene Meyer, hospital president and CEO, seeking a meeting about the issue. The letter also was addressed to the LMH board and Lawrence city commissioners. Branson and Meyer are scheduled to meet Thursday afternoon.
Janice Early-Weas, director of community relations at LMH, said the hospital had received Branson's letter and was reviewing the information.
"We will have more information after they meet," she said.
Branson questions why other nurses in the hospital aren't performing sexual assault exams — if a sexual assault nurse is not available — rather than sending the patient elsewhere for help.
"There is an incredible amount of shame and embarrassment associated with being the victim of an attack. It takes great courage for a survivor to come forward," Branson said in the letter. "For them to suffer yet another indignity at being turned away from the emergency room is unconscionable."
Sarah Jane Russell, executive director of GaDuGi Safe Center, a Lawrence sexual assault victim's advocacy organization, said her organization had provided services to 108 sexual assault victims so far this year.
"We very well may be seeing more days where we have more than one person present at a hospital who's been sexually assaulted," Russell said. "What is our response to that? We cannot keep sending people away from our community."
LMH turns patients away if they have suffered extremely traumatic injuries or if better equipment or a more specialized staff are needed. But Branson says that usually doesn't apply in rape examinations.
Branson said that turning people away can lead some rape victims to abandon the reporting process and that delays in examination can destroy evidence needed to hold an attacker accountable.
Copyright 2018 The Lawrence Journal-World. All rights reserved. This material may not be published, broadcast, rewritten or redistributed. We strive to uphold our values for every story published.