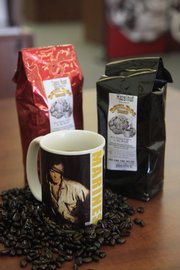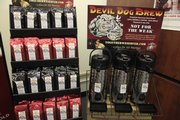 Hank Salmans has always loved coffee. He loves it so much, in fact, that as a Marine stationed far from Lawrence, he strained grounds through a sock to get his fix.
Though he's retired the sock-filter method, he's kept his love of coffee and combined it with his love of the Marine Corps to create the Lawrence-based Devil Dog Brew.
"I'm very passionate about coffee, and I'm very passionate about the Marine Corps," Salmans says. "It just seemed like a great match."
Since its inception in 2007, Devil Dog Brew and its sister label, Sniper's Brew, has been sold around the world, sponsored military-affiliated events and donated proceeds to charitable organizations benefiting military and law enforcement.
"If you serve in the Marine Corps for 21 years and you understand things like honor, courage and commitment, when you get out of the Marine Corps, how do you continue that feeling of doing something that's a worthwhile endeavor, or a worthwhile pursuit?" Salmans says. "Whatever you do, I think you have to have passion."
Barons Brothers
Salmans retired from the corps in 2005 after a career that took him around the world, saw him reach the rank of major and become what the Marines call a "mustang" — a soldier who has been both an officer and an enlisted member of the military.
He ended his career as the company commander and executive officer of a battalion of about 800 Marines and their families. When he retired and moved back to Lawrence and his family, the first thing he thought of was how he could help the people he commanded during his former life.
So the giving started in 2007. That's when Salmans teamed with his adoptive brother, J.R. Lewis, to form Barons Brothers, an export/import company designed to buy coffee. The original goal for the company was to supply coffee to military bases in the commissary system while giving a portion of the proceeds to military charities. Members of both the Lewis family and Salmans' birth family have a long history in the military, and the family is proud of its servicemen.
With the family in mind, Salmans and Lewis cooked up Devil Dog Brew, coming up with a name that nodded to the Marines, nicknamed "teufel hunden," or devil dogs, by the Germans during World War II. With the company set up, beans in from Panama — where Salmans was stationed and has family — a roaster in place and flavors determined, the company was ready hit military bases. But there was a snag in the company's initial goals — rules stipulate that a brand must be an established product on the civilian commercial market before landing on base.
So the Devil Dog and Sniper's brews hit the retail market online and in stores, including Checkers Foods, 2300 La., which is owned by their parents, Jim and Linda Lewis. Checkers sells 600 bags a month, the average order at www.devildogbrew.com is $59 each, and both labels have just been picked up for distribution by Kansas City-based Paris Brothers.
"I told Hank that I thought we'd be well-received in the store, and I was right. It surprised my brother just a bit because originally he thought the appeal would be greatest with communities by military bases," Lewis says.
This year, coffee lovers on base are finally getting Devil Dog Brew available there, though it's not in the full commissary system yet. The brew has been picked up by a military distribution company and is available both at private on-base stores and at the National Museum of the Marine Corps.
Giving back
Devil Dog Brew has been able to donate and support military charities and organizations, including military community heritage Web site www.togetherweserved.com; the Marine Birthday Ball in Baghdad, Iraq; the Jacksonville (Fla.) Marine Corps Half Marathon, which gives money to the Freedom Alliance Scholarship Fund; and the Marine Corps Marathon in Washington.
Salmans says the amount given varies.
"Right now we don't have a percentage, and part of that is because when we started, we were capitalized by my brother and father investing in the company. And we knew that we could donate monies immediately without even having money generated from the coffee," Salmans says. "We determined, because we wouldn't know what kind of flexibility we'd have as we built the company, that we would leave the percentage kind of open and we'd donate where we could and we had opportunities to."
Ideally, he'd like the company to be "the Red Bull of coffee" — where Devil Dog's muscled, tattooed mascot is recognizable around the world, and military and law enforcement personnel are benefiting everywhere.
"I think as a capitalist, the more money I am able to make and produce, the more people I can help," Salmans says. "I would rather donate a portion of proceeds to somebody rather than just donate product because they get actively involved in promoting the brand, and I get stronger and can do more. It's almost like teaching a person to fish. I can either feed them for a day, or I can feed them for a lifetime."
---------
RECIPES
Got Motto?! BBQ chicken
12 pieces chicken — 6 legs, 6 thighs
1 1/2 teaspoon oil
1/2 medium onion, chopped
1 clove fresh garlic, minced
1 teaspoon dry mustard
1/2 teaspoon chili powder
1/2 teaspoon cumin
1/2 cup brown sugar
1 1/2 tablespoons molasses
3/4 cup Devil Dog Brew Gunny's Motto Supremo, freshly brewed coffee (not grounds)
Heat oil in saucepan. Sauté onion and garlic, then add Devil Dog Brew coffee and simmer a bit. Add remaining ingredients and simmer awhile until it thickens. Salt and pepper to taste. Cool sauce completely and pour over chicken. Coat well and refrigerate overnight.
Get your grill going to medium heat. Remove chicken from sauce.
Bring remaining sauce to a boil and then simmer.
Throw down chicken on grill and baste with simmering sauce.
Grill chicken to 165 degrees and enjoy.
— Recipe from www.devildogbrew.com.
Cowboy Coffee Beef Stew
22-ounce lean steak or stew meat cuts into cubes
2 tablespoons extra-virgin olive oil
Medium yellow onions (to taste), sliced thinly
1 1/2 bell peppers (green, yellow or red) sliced medium to thick
1/2 jalapeno pepper, sliced thin (optional)
1 15-ounce can stewed tomatoes, drained
1 garlic clove chopped
1/4 cup all-purpose flour
6 tablespoons dry white wine
6 tablespoons freshly brewed Devil Dog Brew coffee (Gunny's Motto Supremo recommended)
Salt and pepper to taste
Brew two cups of Devil Dog Brew coffee. Set aside 6 tablespoons and drink the rest.
Cut steak into cubes, slice the onions and peppers, chop the garlic and set all ingredients aside. Heat the olive oil in a good cast-iron skillet and then add the steak. Stir frequently and brown all sides evenly. Use a slotted spoon to drain the steak while removing and putting in a bowl. Cover the steak to keep warm.
Add the onions, peppers and garlic to the skillet containing the remaining oil drippings and cook over low heat, stirring occasionally until all are semi-softened. Sprinkle in the flour stirring continuously for a few minutes. Gradually stir in the wine and coffee and then bring to a boil, stirring constantly. Gently add the cooked steak to the skillet, salt and pepper to taste, cover and reduce heat to simmer for an hour or until steak is tender.
— Recipe from www.devildogbrew.com.
Devil Dog Brew Yankee Doodle Mocha Brownies
2 tablespoons Devil Dog Brew Yankee Doodle coffee grounds (pulverize grounds or fine-grind espresso style)
3 squares of unsweetened chocolate, melted
1 1/2 cups pre-sifted cake flour
1 teaspoon baking powder
1 1/2 teaspoons salt
1 cup softened butter, room temperature
2 cups granulated sugar
4 eggs
1/2 cup chopped pecans or walnuts (optional)
Grease a deep 9-by-12 pan, set aside. Preheat oven to 350 degrees.
In a medium bowl, blend the melted chocolate with the prepared coffee and set aside to cool.
In a second bowl, sift together the flour, salt and baking powder.
In another larger bowl, beat the butter until light and fluffy (a rubber spatula works well) and then add the sugar a 1/2 cup at a time. Add the eggs and then blend well. Stir the Devil Dog Brew Yankee Doodle coffee mixture into the butter mixture and then add the flour mixture to that. If using, stir in the nuts. Mix well.
Pour batter into the pan. Bake 30-40 minutes or until done — use toothpick to test center — it should come out clean.
— Recipe from www.devildogbrew.com.
Copyright 2018 The Lawrence Journal-World. All rights reserved. This material may not be published, broadcast, rewritten or redistributed. We strive to uphold our values for every story published.