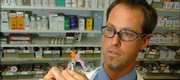 An outbreak of H1N1 Swine Flu was reported in Mexico in April 2009. By the end of May, it had spread across the U.S., with all 50 states reporting cases.
Wichita — A group that represents public health departments in Kansas holds its annual conference this week under the shadow of expected swine flu outbreaks.
The new, pandemic strain of the H1N1 virus will be on the agenda during the Kansas Public Health Association's two-day event. The conference begins Wednesday at the Wichita Hyatt Regency hotel.
One session will be devoted to the topic, "How to Spread Information and Not the Flu." Another will explore the deadly international influenza epidemic of 1918-19, which is believed to have started in Kansas.
Association Executive Director Elaine Schwartz says it's more important than ever to bring professionals together to discuss responses to public health threats.
Copyright 2018 The Associated Press. All rights reserved. This material may not be published, broadcast, rewritten or redistributed. We strive to uphold our values for every story published.