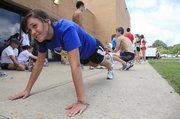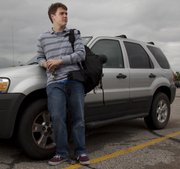 Regan Keller has a word of advice for her fellow high school seniors: skip the pre-prom pedicure.
"It's dark in there," she says. "No one can tell if your toes look pretty."
That's just one of the ways Regan, a senior at Lawrence High School, plans to save money during a time that is both thrilling (her final year of high school) and a little scary (the tough economy). In addition to forgoing some small indulgences, Regan also is sharing a car with her sister and shopping the sales racks.
And she's not alone. Many area parents and teens are taking a hard look at the costs associated with senior year and taking steps to save whenever possible.
The basics
There are a few "required" fees for high school seniors, including $50 for enrollment and $72 for textbook rental, says Lisa Boyd, assistant principal at Free State High School. But it's the nonrequired extras that can really start to add up: $25 for an activity card, $10 to park on campus, $50 for a yearbook.
Students who choose to take college entrance exams or Advanced Placement classes face even more costs. The ACT is $47 with the writing portion and $32 without. And many students take the test more than once.
"I haven't seen a big increase in fees, but the AP test costs have gone up," she says.
Alek Joyce, a senior at Free State, is taking three AP courses this year. It will cost about $250 to take the year-end exams for these classes. The tradeoff, of course, is being able to test out of similar classes at college.
"You know there's going to be expenses," says Alek's mom, Holli Joyce. "You just have to be prepared."
Then there's graduation. A $29 cap and gown fee is required for seniors, but that's just the beginning. Students also have the option to order graduation announcements, senior pictures and class rings. Alek's class ring was about $300.
"That's something he really wanted," Holli says.
Gearing up for college
Probably one of the costliest things about senior year is getting ready for freshman year — at college.
It starts with college entrance exams. Application fees can range anywhere from $50 to $100. Then students have to visit the campus of their dream school.
Alek Joyce, who's considering a future in nuclear engineering, has his potential college list narrowed down to just a few. The family has planned a college-visit trip to Madison, Wis., which will include airfare, hotel and food expenses. Holli Joyce said two to three other trips are planned.
"It affected our summer travel plans, knowing that we had these trips coming up," she says.
Holli says she and her son will try to find friends to stay with or drive instead of fly. Regan Keller, the LHS student, says many of her friends are taking a riskier step by not visiting campuses until acceptance and attendance are a sure thing.
"A lot of schools offer virtual tours online," she adds.
What to do
Holli Joyce admits that her son's senior year — and all the associated costs involved with it — sort of snuck up on her.
"It's not like when I was in school," she says. "You can't start thinking about this stuff too soon."
Regan Keller's mother, Judy Keller, agrees with that philosophy. The earlier a parent can begin preparing the better.
"You have 18 years to save," Judy explains. "Then when it finally comes, you can relax and enjoy it."
And of course, let the teens help out where they can. Part-time jobs, ride shares, scholarships and realistic expectations all will contribute to a happy senior year.
Copyright 2018 The Lawrence Journal-World. All rights reserved. This material may not be published, broadcast, rewritten or redistributed. We strive to uphold our values for every story published.