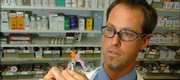 An outbreak of H1N1 Swine Flu was reported in Mexico in April 2009. By the end of May, it had spread across the U.S., with all 50 states reporting cases.
Washington — Many state and local governments are not adequately prepared to deal with a surge of patients in a flu pandemic or quickly distribute vaccine and antiviral drugs, according to two reports by federal investigators being released today.
An analysis of preparations by five states and 10 municipalities around the country found that many had failed to take steps crucial during a pandemic, such as recruiting health-care workers to volunteer, creating systems to track hospital beds and medical equipment, and determining how to manage a patient load that exceeds what emergency rooms are able to handle.
"Our review found that although the selected states and localities are making progress within the five components of medical surge that we reviewed, more needs to be done to improve states' and localities' ability to respond to a pandemic," investigators from the Department of Health and Human Services Office of Inspector General concluded in one report.
The findings come as federal, state and local officials are preparing for a second wave of swine flu infections. The H1N1 virus emerged in Mexico last spring and quickly spread to the United States and elsewhere. Although the virus appears no more dangerous than seasonal flu, many more people than usual are expected to become ill because most have no immunity against it.
For the first report, investigators collected information last summer about pandemic planning in Portland and Lewiston, Maine; St. Louis and Rolla, Mo.; Sioux Falls and Mitchell, S.D.; Virginia Beach and Blacksburg, Va.; and Seattle and Longview, Wash.
In a 30-page report, investigators found:
• Although all 10 communities had developed committees to help plan for a pandemic and health-care coalitions to coordinate care, "the degree to which coordination occurred varied" among them.
• Fewer than half of the communities had started to recruit volunteer medical workers to help with a surge of patients, and none of the states had implemented an electronic system to manage such volunteers.
• All 10 communities had acquired additional medical equipment to respond to a pandemic, but "many experienced difficulties with managing this equipment," and only three states had electronic systems to track beds and equipment.
• Although nine of the 10 communities had either identified or were working to identify alternative sites for treatment of patients that hospitals could not accommodate, few had signed formal agreements for the use of those facilities, and "none of the localities that were planning to use alternate care sites had plans that included the scope of care and how these sites would be managed, staffed and supplied."
• Nine of the 10 communities had not identified guidelines for adjusting their triage, admissions and care to handle a rush of patients in a crisis, with many citing liability concerns.
• All of the communities had conducted exercises during the previous two years, but most of the exercises involved discussion only. None documented lessons learned from the exercises.
Copyright 2018 The Lawrence Journal-World. All rights reserved. This material may not be published, broadcast, rewritten or redistributed. We strive to uphold our values for every story published.