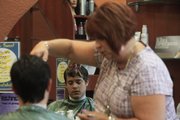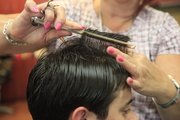 I know nothing about men's hairstyles or any of the terms associated with them — and apparently I'm far from the only man like that.
I have only had a few cuts at a barber, and I decided to go to an expert to not only get a more professional haircut but also learn how to communicate effectively with a stylist or barber.
The confusion started immediately when I filled out a form asking what my hair was like and how I would describe my lifestyle. What is relaxed hair? What is dull hair? Why do they care about my lifestyle?
Brenda Smith-Peterson of Hair Experts in Lawrence, 2100 W. 25th St., says speaking a common language with clients is a common need for people in her line of work. She says she also encourages men to bring in photos or look through style books at the hair salon to give the stylist a visual starting point.
While most men traditionally have gone to a barber, Smith-Peterson says she has seen more and more men coming into her shop as regular customers. Fifteen to 20 percent of their business comes from male customers, she says.
"Guys now think nothing of coming in and getting haircuts, getting color, whatever their needs might be," she says. "Your age group — say under 35, under 30 — have no qualms coming into a place that's full of women."
Unknown to me before, there are several factors that require different haircuts. Face shape, head shape and ability to grow facial hair all factor into the style and length of a presentable haircut.
Smith-Peterson says one of the most common problems with male customers occurs when they cut their hair to their head shape using razor guards.
"When you put a guard on the clipper, you cut the hair to the planes of the head, and the hair shape will mimic the head shape," she says. "If you have a perfect shape, rock on, and if you don't if you have a flat spot or whatever, then you get these flat spots and weird things going on."
Smith-Peterson says most men should get their hair cut every three to four weeks. An easy way to judge how long your hair involves using the distance between both joints of the index finger — which is about an inch — and measuring it to your hair.
Smith-Peterson shared another tip for measuring how long sideburns should be based on facial structure. First, take the distance from the tip of the chin to the point of the jawbone. Take half that length and measure from the tip of the jawbone, and that's where the sideburns should end.
While I still have much to learn about hair styling, I now know the basics. With the use of hair model photos and the basics mentioned above, no man should feel uncomfortable when they head to the barber or stylist.
Copyright 2018 The Lawrence Journal-World. All rights reserved. This material may not be published, broadcast, rewritten or redistributed. We strive to uphold our values for every story published.