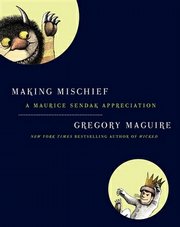 Maurice Sendak, now 81 years old, may be the most revered living figure in children's literature. Generations weaned on "Where the Wild Things Are" retain a soft spot for the book's wayward hero, Max, even those first readers of the 1963 book. Sendak's work has been parsed and praised for decades. A live action movie of "Wild Things" is due next month.
Is there much more to be said about Sendak?
Maybe a little.
Gregory Maguire is the writer best known for his clever take on the Oz story in "Wicked" and an accomplished children's book author in his own right. Maguire's task in "Making Mischief: A Maurice Sendak Appreciation" (William Morrow, $27.50) is to reveal Sendak's "extensive and eclectic" artistic influences and his recurring themes, like flying and monsters.
This is not a formal academic exploration of Sendak's artistic merit. It's more like a smart guy talking about why he thinks Sendak is so cool, with a bunch of pictures to make his point. And the pictures are fun. The illustrations allow Maguire to show how Sendak's images echo everything from William Blake to Bugs Bunny, to classic movies (the befuddled trio of cooks in "In the Night Kitchen" are ringers for Oliver Hardy).
Maguire is warm writer with plenty of insight. But potential buyers should realize the book, which grew out of a lecture, is really an idiosyncratic, nicely illustrated bit of literary criticism. Even before Maguire devotes 15 pages to list his 10 favorite Sendak illustrations, it's clear that this is a book for serious fans.
People wanting a wild rumpus best stick to Sendak's work.
Copyright 2018 The Associated Press. All rights reserved. This material may not be published, broadcast, rewritten or redistributed. We strive to uphold our values for every story published.