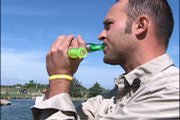 Kansas City, Kan. — Editor's note: Reporter Mark Boyle takes us behind the scenes of news stories in the area. On the brink of hunting season, Mark took a trip to Cabela's in Kansas City, Kan., to learn about hunting calls.
Sept. 13, Sept. 21 and Oct. 31. They are the dates that avid Kansas hunters have had their sights set on all off-season long.
Teal season for duck has officially begun, with archery season for deer just days away and the official goose and duck season to follow at the end of October.
Many hunters take to the fields with just their daily supplies and rifle, but others believe the use of hunting calls can drastically improve a hunter's odds and add some challenge to the sport also.
"You want to mimic that real duck," said David Wade, who has been duck calling since childhood. "Can it be accomplished to be a perfect complete sound to sound like a real duck? It can't, but we try to get as close as we can."
John Timchak has been calling for more than 15 years and takes part in competitions. "A predator calling competition is two days of hunting," Timchak said. "It's like a fishing tournament — you go out and call for two days and you weigh in at the end of each day. Largest number and most weight wins."
Jordan Taber carries four calls with him when hunting, one of which he carries with him at all times, hunting season or not.
"A lot of guys, as soon as season closes, will hang up their calls and they don't pick them up until the season starts again," Taber said. "It gives you something to do in the off-season when there isn't anything to shoot. Anyone who knows me knows I always have my goose call on me."
Cabela's conducts calling competitions throughout the year including that of turkey, duck and goose. The goal behind the popular activity isn't just to practice techniques used during hunting season, but also to bring some fun to the sport for youngsters.
"We try to concentrate on the youth in terms of getting the youth involved with the calling competitions because they are really our future," said Jimmy Lopez, promotions coordinator for Cabela's in Kansas City, Kan. "It's fun, we try to make it fun, but it turns out to be more competitive than anything."
Hunting calls and instructional DVDs can be purchased for $20 and go up to as much as $200. The hunters we spoke with all agree that regardless of your financial investment, the fun and experience that goes along with the addition of calls into your hunting experience repays itself time and time again.
Copyright 2018 The Lawrence Journal-World. All rights reserved. This material may not be published, broadcast, rewritten or redistributed. We strive to uphold our values for every story published.