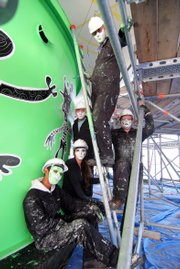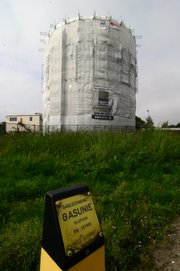 For the sake of this story, his name is Zigowst.
It's pronounced Zee-GHOST. Or ZEE-Ghost. Or Zuh-Gawst.
Whatever. It really doesn't matter. And that's kind of the point.
He's a 32-year-old picture framer and artist who grew up in Shawnee and has lived in Lawrence for four years, aside from the past two months in the Netherlands. He has a girlfriend who still lives here.
But, again, in the world of Toyism, you're not supposed to care about those details. At least not according to The Mother — the manifesto that has guided his artistic endeavors since August.
Zigowst may be part of an isolated, artistic fad. Or he may be part of artistic history. At this point, it's hard to tell.
•••
The background: In 1992, a Dutch artist who now goes by the name Dejo was attending art school. He became fed up with the egos of his fellow artists.
He mimics what he heard from his classmates: "I did this, I exhibit there, I sold that. Blah, blah, blah. See how good I am doing."
"People should talk about you and your art, not the other way around," he says.
So he decided to strike out on his own.
"I decided my artwork should be different and original, and that egoism should be less important in art," he says.
On Sept. 5, 1992, he sat down to write out his plan for an art movement. The result was a manifesto that includes 25 guidelines for a movement he now calls Toyism.
Nobody — besides the Toyists — knows exactly what is in The Mother, as the manifesto is called.
But the philosophy it this: Each work that comes from the movement is the result of The Mother and various fathers, also known as Toyists. In other words, each artist brings his or her own background to the mix with the artistic philosophy of the manifesto.
Stylistically, Toyism is narrative, in that each painting tells a story with figurative images. The style also involves a lot of dots in the artworks.
All of this intrigued Lawrence's Zigowst. He felt he was a good candidate to be a Toyist.
"Zigowst uses abstract and figurative elements in his own work," Dejo says. "Maybe in his own work, the story wasn't always there, but he knew he could do it and be part of the movement. Zigowst is very much a learner, and he was looking for soulmates in art."
•••
Zigowst joined up with the Toyists seven weeks ago.
An enthusiast of art history, Zigowst did an Internet search last spring looking at what modern artistic movements existed. He came across Toyism and sent and e-mail to Dejo inquiring about getting involved.
Dejo accepted his application, knowing a big project loomed. Zigowst booked a flight to the Netherlands.
"I like to work alone, and I'm good at it. I'm focused," Zigowst says. "I was scared to come here and do this. I questioned it a lot. I forced myself way out of my comfort zone, with other artists, living in a small house, with people I don't know, with people who don't speak English."
The nicknames picked by the members are limited to one per letter of the alphabet — so far, 16 letters are taken. Eventually, the plan is for there to be 26 Toyists. There currently are members from the Netherlands, United States, Malaysia and Mexico. (Zigowst, one of two American members, picked his name because he has interest in spirits and the paranormal.)
•••
The big project that was looming was a commission to paint a gigantic former gasoline storage tank in Emmen, in the Netherlands. It's called The Globe, and it resembles a large water tower.
An energy company paid to have it painted as a giant mural — it's 1,250 square meters in four layers, with 16 artists working 7,000 hours to complete it.
"Unique in so many ways," Dejo says. "This has never been done before, as I recall."
Zigowst describes a common day this way: At 7:45 in the morning, Dejo shows up at the bungalow Zigowst and several other Toyists share. They wear jumpsuits (to avoid paint), hardhats (to avoid danger) and masks (to avoid revealing their identities) on the way to the work site.
When they get there, the 500-foot-tall tower is surrounded by netting, so the Toyists can shed their masks and work without sight restrictions. (Although they wore the masks for the photos accompanying this story, again, to keep from revealing their identities.)
They walk up and down the scaffolding, and passers-by have stopped to check out the action enough the Toyists have erected a sign: "Do not feed the monkeys."
Zigowst has bought into the philosophy.
"The art is not supposed to be about the individual ego," he says. "It's about the ego of the group. Together, we form a much more comprehensive and unified vision. If we take out the individualism, it's more about the art."
•••
Susan Earle isn't surprised a Toyist came out of Lawrence.
Earle, curator of European and American art at the Spencer Museum of Art at Kansas University, says the scene here seems right to produce such an artist.
"They seem to be fairly open to people submitting applications," she says. "It's interesting that someone from Lawrence is involved. It seems this is the right kind of atmosphere to foster something like that."
Earle, who wasn't aware of the movement until asked by the Journal-World, says there are other "anonymous" art groups such as the American Guerrilla Girls, who dress in gorilla outfits and do public art and demonstrations.
She was intrigued by how local artist collectives — including the Fresh Produce Art Collective and the group known as The Percolator — differ from the Toyists. The local groups, she says, "are open, while this is trying to be more limited and being more prescribed."
"They have this secret manifesto, and they have a whole aesthetic," Earle says. "They have this specific kind of style."
•••
The Globe project is expected to take a few more weeks to complete.
When it's done, it will be a mix of brightly colored images on the side of a giant tower — just the sort of publicity the Toyists need, according to Dejo.
There will be windmills, animal images (there is a redeveloped zoo nearby) and other culturally relevant art.
Zigowst sees a future with Toyism, but he expects to remained based out of Lawrence. He started sketching on his own again recently and has seen some new influences.
"I was surprised (Toyism) had come through in my own sketching — I felt I was in a Toyism mode," he says. "There's potential there, that it could be a full-time thing. ... This could be a career path for me."
Dejo says he's happy to have his new American Toyist.
"His style, his background, his nature make him fit very well into Toyism," he says. "Everybody is different. That is important to Toyism. We have different cultures from around the world. We don't want to change people. We want to change things with our art. That makes us different and equal at the same time."
Dejo wants to find more projects outside of the Netherlands. And with this recent project, he has a new idea.
"Zigowst told us there are lots of water towers in the states," he says. "So we probably need the nine lives of a cat to change them into Toyism."
Copyright 2018 The Lawrence Journal-World. All rights reserved. This material may not be published, broadcast, rewritten or redistributed. We strive to uphold our values for every story published.