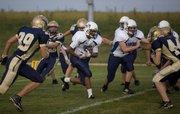 Veritas Christian needed only one half of football to amass 222 rushing yards and 116 passing yards in Friday night's 58-0 victory against Seabury Academy at the Eagles' Nest, where the crickets have plenty to say and the Eagles usually dominate.
The game was called at the half because of the state's eight-man football rule that stipulates if a team leads by at least 45 points at least halfway through, a mercy rule stops play.
For part of the second quarter, Veritas Christian coach Doug Bennett had players playing out of position and on the final drive let the clock run out inside the five-yard line in order not to run up the score.
"It was appropriate to call it at the half," Bennett said. "They're dealing with a lot of injuries, and we only have 13 players, so it's not like we could put in the third string."
The Seabury football program is in its second year and is coached by Scott Peavey, a senior at Kansas University. Peavey said the Seahawks (1-2) were without five players who started in last week's loss. Peavey did not question the wisdom of scheduling an established football program such as Veritas.
"I like for them to get experience against the tougher teams," Peavey said. "We just need to keep improving, and eventually the wins will come."
Bennett, in gracious fashion, said: "If those five starting guys had all been there, it would have been a more competitive game."
Seabury had trouble dealing with the speed of the fundamentally sound Eagles, who blocked with precision and tackled with purpose.
Veritas Christian (3-0) scored touchdowns on its first eight possessions, and five different players scored touchdowns.
Preston Randall scored on a 50-yard touchdown run and led the team with 65 rushing yards on three carries. Twins Nate and Ethan Scott rushed for two touchdowns apiece. Nate rushed for 42 yards on three carries, Ethan for 33 on three carries and also scored on a 45-yard pass from Nick Bennett.
Hogan Randall also rushed for a touchdown and Bennett threw two touchdown passes and completed all three of his passes for 116 yards, including a 45-yard scoring strike to Jacob Reynolds.
Seabury's lone first down came on a 21-yard pass play from Fischer Almanza to Zach Silvers late in the first quarter.
Throughout the rout, Veritas seemed to remain focused and assignment-sound.
"The guys played with good effort, played physical, played smart, carried out their assignments and were good sports," coach Bennett said. "This a hard-working group. Our captains, Nate Scott and Hogan Randall, have done a good job leading the team. The players arrive early to practice, stay late and work on things on their own."
All that hard work cheated the Eagles out of a half of game action, but nobody could complain about the merciful end to a major mismatch.
Copyright 2018 The Lawrence Journal-World. All rights reserved. This material may not be published, broadcast, rewritten or redistributed. We strive to uphold our values for every story published.