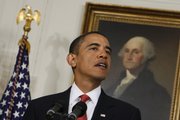 Washington — President Barack Obama abruptly canceled a long-planned missile shield for Eastern Europe on Thursday, replacing a Bush-era project that was bitterly opposed by Russia with a plan he contended would better defend against a growing threat of Iranian missiles.
The United States will no longer seek to erect a missile base and radar site in Poland and the Czech Republic, poised at Russia's hemline. That change is bound to please the Russians, who had never accepted U.S. arguments that the shield was intended as a defense against Iran and other "rogue states."
Scrapping the planned shield, however, means upending agreements with the host countries that had cost those allies political support among their own people.
Copyright 2018 The Associated Press. All rights reserved. This material may not be published, broadcast, rewritten or redistributed. We strive to uphold our values for every story published.