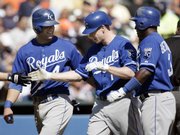 Detroit — Jim Leyland was unhappy.
Leaning back in his chair with his feet propped up on top of his desk, the Detroit manager didn't relish discussing his team's latest loss to last-place Kansas City.
"There's no excuses," he said.
Zack Greinke lowered his major league-leading earned-run average to 2.14 with five scoreless innings in a 9-2 victory Thursday over the Tigers.
Kansas City, an AL-worst 59-87, has won six of its last seven games against the Tigers (78-68), whose AL Central lead over second-place Minnesota (74-72) was cut to four games.
"It's going to be a playoff atmosphere," Detroit's Brandon Inge said.
Greinke (14-8) gave up three hits, struck out eight and walked two. He has allowed only one earned run in his past four starts, lowering his ERA from 2.43.
Miguel Olivo and Josh Anderson hit three-run homers for the Royals, and Willie Bloomquist had four hits.
Greinke struck out two in the first and three in the second. The only real trouble he faced was in the fourth, when the right-hander was struck on the upper part of his throwing arm by a liner off the bat of Miguel Cabrera. Greinke gathered himself and threw out Cabrera at first, then needed several warmup pitches and a visit from a trainer before he continued.
"When I started warming up, I didn't have any control, so I told Trey that I needed more pitches," he said, referring to manager Trey Hillman. "Once I got used to it, I was able to get my fastball over and the offspeed pitches were fine. I wasn't scared — the only thing that scares me is getting hit in the face."
Hillman said X-rays were negative, and the team will monitor Greinke during the next several days.
Hillman removed his ace after 77 pitches, 46 for strikes.
"I never want to only go five, but it was the right move, because I didn't feel like I was pitching very well in the fifth," Greinke said. "Before I got hit, I thought I was good, though. I had great command."
Edwin Jackson (12-7), like Greinke a member of the AL All-Star team, gave up five runs and six hits in five innings.
Copyright 2018 The Associated Press. All rights reserved. This material may not be published, broadcast, rewritten or redistributed. We strive to uphold our values for every story published.