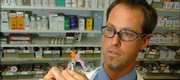 An outbreak of H1N1 Swine Flu was reported in Mexico in April 2009. By the end of May, it had spread across the U.S., with all 50 states reporting cases.
Washington — The Food and Drug Administration approved the new swine flu vaccine Tuesday, a long-anticipated step as the government works to start mass vaccinations next month.
Limited supplies should start trickling out the first week of October — about a week earlier than expected, Health and Human Services Secretary Kathleen Sebelius told Congress. Then about 45 million doses should arrive around Oct. 15, followed by more shipments each week.
She said they'll be available at up to 90,000 sites, including schools and clinics, across the U.S. that state health departments have chosen as best at getting the shots out fast.
Eventually, "we will have enough vaccine available for everyone," Sebelius said. Everyone who wants it, that is.
This year is unusual: Many people will have to line up twice for flu vaccine, once to be inoculated against regular winter flu and a second time for an 2009 H1N1 strain vaccination.
The new swine flu seems no more deadly than regular winter flu, which every year kills 36,000 Americans and hospitalizes 200,000. But there's an important difference: This H1N1 strain sickens younger people more frequently than the people over 65 who are the main victims of seasonal flu.
Copyright 2018 The Associated Press. All rights reserved. This material may not be published, broadcast, rewritten or redistributed. We strive to uphold our values for every story published.