Photo Gallery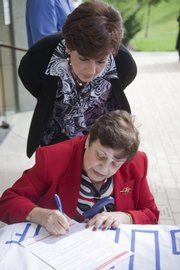 99 become new U.S. citizens at Dole Institute ceremony
Sean Power has traveled the world. He was born in South Africa, but has also spent significant time in Great Britain and Ireland.
Now, he's committed himself to America. He joined 98 other foreigners who officially completed the lengthy process of becoming United States citizens during a naturalization ceremony Monday morning in Lawrence.
"It's a nice achievement," Power said. "The concepts within the U.S. Constitution precede all other concepts that I've seen."
During the patriotic ceremony at Kansas University's Dole Institute of Politics, 2350 Petefish Drive, the group of 99 new citizens from 36 different countries took an oath pledging their allegiance to the United States of America.
And though some of them didn't have the entire pledge itself memorized — stumbling briefly to find the written words in their programs — they understand the new freedoms and responsibilities associated with being American.
"I'm so excited to be a new citizen, so I can vote," said Ade Orekoya, formerly of Nigeria. "It's a blessing."
Orekoya has lived in the United States for more than 25 years. He became a resident in 1990 and recently completed all the paperwork necessary to become a citizen. After the naturalization ceremony, he held his naturalization certificate and a small American flag proudly.
Olesya Kleyn, formerly of Ukraine, said the day was emotional and a longtime coming.
"It's a great country; I really love this country," she said. "It's great for my kids, for my family."
The new citizens come from all walks of life. Many of them have jobs in northeast Kansas, with careers ranging from engineers, architects and assistant professors, to nurses, bank tellers and cashiers. Others are retired or homemakers.
"I am always inspired by the countries from which these people come and the work that they do within the United States," said Deanell Tacha, of Lawrence, a judge on the 10th Circuit U.S. Court of Appeals who participated in Monday's celebration
The ceremony, which has been held at KU each year since 2003, is in conjunction with Constitution Day activities, in recognition of the signing of the Constitution on Sept. 17, 1787. U.S. District Judge John Lungstrum, also of Lawrence, presided over the ceremony.
The new citizens were reminded by KU Chancellor Bernadette Gray-Little and U.S. Rep. Lynn Jenkins, R-Kan., about their civic responsibilities of staying informed, participating in jury duty and voting.
"We are honored to have you as fellow citizens," Gray-Little told the group and their friends and families.
Copyright 2018 The Lawrence Journal-World. All rights reserved. This material may not be published, broadcast, rewritten or redistributed. We strive to uphold our values for every story published.