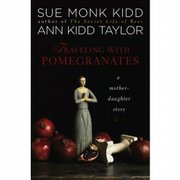 In "Traveling With Pomegranates: A Mother-Daughter Story" (Viking, $25.95), a daughter graduates from college and plunges into depression as she searches for her true calling. A mother struggles to accept her own mortality, and wonders how to help her daughter with problems that she can no longer kiss and make better.
Together, best-selling author Sue Monk Kidd ("The Secret Life of Bees") and her daughter Ann Kidd Taylor recount their journeys to Greece and France as they navigate through life's phases: one entering adulthood, the other entering menopause.
This book is heavy on introspection and light on plot, but any mother or daughter would enjoy and relate to the touching struggle of developing a close relationship as adult women.
Mother and daughter wrote alternating chapters of this travel memoir, creating a fuller picture of how life's events affect a family. To the daughter, her upcoming wedding stokes fears of losing her identity in marriage. To the mother, the wedding brings feelings of happiness but also signifies her own aging.
A recurring theme is the myth of Demeter and her daughter Persephone, in which Persephone is abducted to the underworld (eats pomegranate seeds) and eventually reunites with her mother. As the real-life mother and daughter visit archaeological sites from that story and others, each relic and icon they visit becomes infused with personal meaning.
Fans of "The Secret Life of Bees" will enjoy this retelling of the period in Monk Kidd's life when she was conceiving and creating the novel. This aspect reads like a director's commentary on a DVD — learning how she prayed to a Black Mary icon nestled in a tree at a convent in Crete for the courage to write fiction; how she brushed the project aside amid early criticism; how she took a bee landing on her shoulder in Ephesus, Turkey, as a sign; and how she eventually completed the work and returned to the Black Mary with an offering of jar of honey.
Copyright 2018 The Associated Press. All rights reserved. This material may not be published, broadcast, rewritten or redistributed. We strive to uphold our values for every story published.