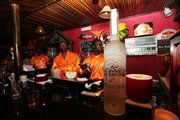 Lagos, Nigeria — The waiter at Caliente bar sticks a sparkler into yet another bottle of champagne and hits a siren mounted behind the bar to draw everyone's attention to the sleek Nigerian businessmen who ordered it.
Near their table, oil traders, sports stars and politicians' children grind to a hip-hop beat.
Most of Nigeria's 150 million citizens may live in desperate poverty, but the West African oil giant also has an elite that revels in "shakara" — the flaunting of success.
"Nigerians who have money like to splash it," explains Naomi Okaja, whose company imports goods into Lagos, the commercial capital. "There are a lot of bad things about this country, like the leadership, but there's a real entrepreneurial spirit."
At the Megaplaza mall, a flat-screen TV taller than a man sells for $53,000, a crystal chandelier for $10,000. A 2009 survey by U.S. consulting firm Mercer finds Lagos pricier for expatriates than Berlin or Madrid.
Meanwhile, four-fifths of Nigerians live on less than $2 a day.
In this city of more than 17 million, power shortages caused by neglect and mismanagement mean even rich areas only get a couple of hours of electricity a day. A fleet of diesel generators keeps the Megaplaza lights burning.
The wealthy import everything from refined gasoline for their Mercedes-Benzes to their children's favorite foods.
Haves vs. have-nots
At night the line of lights from vessels waiting to berth stretches across the horizon like a diamond necklace on the throat of a Lagos socialite. They enter heavily laden but head out riding high above the water. Only the tankers leave low-bellied; crude oil accounts for 95 percent of Nigerian exports, but production has been slashed following attacks by militants protesting widespread pollution and poverty.
Violent robberies, fraud and kidnappings pit the haves against the have-nots. Restaurants post armed guards; the homes of the wealthy have walls with razor-wire, floodlights, cameras and security guards. Newspaper ads for luxury armored Hummers blare: "You are a person in authority and influence. Protect yourself."
An island and the connecting peninsula jutting into Lagos Lagoon offer the best real estate. At night the neighborhoods become the ultimate gated communities, reachable only by bridges and checkpoints guarded by sullen police with rifles.
But the guns can't protect against fraud. "This home is not for sale" is spray-painted across the walls of many mansions in case fraudsters get the keys and sell the home for a briefcase full of $100 notes.
And since even Hummers must contend with Lagos' legendary traffic jams, there are yacht moorings and helipads for the super-rich.
Small middle class
All great cities have gaps between rich and poor, but Nigeria has only the smallest of middle classes sandwiched between the desperate and the fabulously wealthy.
Okaja, the importer, a svelte, black-clad 30-year-old, sees the positive side of conspicuous consumption, calling it an African tradition and a celebration of businesses overcoming poor infrastructure, corruption and political unrest.
But success stories, especially for the politically unconnected, are still the exception.
"You must have a big man behind you to succeed," insists 25-year-old Ifane Okuro as he haggles with customers over his brightly colored swaths of cloth. "Can you give me a job?"
Few chances
Okuro's margins have been squeezed by the closure of most of Nigeria's textile factories and a ban on importing fabrics, meaning he must smuggle in cheap Chinese cloth through neighboring Benin. Police collect unofficial "taxes," and he was robbed on his way home from work three months ago.
Authorities say 600 people newcomers arrive in Lagos every day to find work. Most end up living in crime-ridden slums, or sleeping under bridges, or in shacks they build on stilts in the fetid lagoon.
The inequality continues to the grave. Ebony, Nigeria's top funeral provider, offers a replica of Michael Jackson's coffin plus 30-piece brass band. The poor are disposed of wherever there's space; newspapers reported last month that 24 bodies were found abandoned under a Lagos bridge.
Dim hopes
Everyone has a different vision of Nigeria's future. The dancers at Caliente and the shoppers at Megaplaza think the wealth will trickle down, a growing middle class will push for better governance, and a better government will provide better services.
For Okuro and other stall holders around him, such visions provoke bitter laughter.
"When will it come? Tell me when," Okuro demands to shouts of approval. "We are tired of waiting."
Copyright 2018 The Associated Press. All rights reserved. This material may not be published, broadcast, rewritten or redistributed. We strive to uphold our values for every story published.