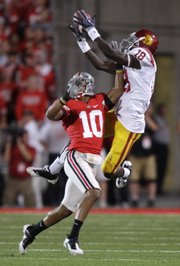 No. 3 USC 18, No. 8 Ohio State 15
Columbus, Ohio — Backed up to their own goal line, Matt Barkley and Joe McKnight drove into USC lore.
Barkley, the freshman quarterback, and McKnight, the shifty tailback, made big play after big play, and Stafon Johnson capped one of the greatest drives in USC's storied history with a two-yard touchdown run with 1:05 left to give the Trojans a victory against Ohio State on Saturday night.
"We're Trojans. That's what we do," Barkley said. "This is what we dreamed of, coming back like this.
"Doesn't matter where we are in the score. We found a way. I love this."
For the Buckeyes (1-1), it was another big-game heartbreaker. Ohio State has now lost six straight against top-five teams.
For the Trojans, it was their 10th straight victory against a Big Ten team. None was tougher — and none was likely more satisfying for Pete Carroll's team.
"I think it's a beautiful statement for our whole team," the coach said.
No. 1 Florida 56, Troy 6
Gainesville, Fla. — Tim Tebow threw four touchdown passes and ran for another score, and the Gators beat Troy in their final tuneup before beginning SEC play.
Tim Tebow completed 15 of 24 passes for 237 yards and equaled his career high with four TD passes. He also ran 13 times for 71 yards.
No. 4 Alabama 40, Florida International 14
Tuscaloosa, Ala. — Greg McElroy completed a school-record 14 straight passes, and freshman Trent Richardson rushed for a pair of second-half touchdowns for Alabama.
The Crimson Tide (2-0) couldn't shake the 33-point underdog Golden Panthers (0-1) until Richardson scored from nine and 35 yards in the final 19 minutes.
No. 7 Penn State 28, Syracuse 7
State College, Pa. — Evan Royster ran for a touchdown and caught another, and Penn State contained quarterback Greg Paulus and rebuilding Syracuse.
Royster turned a short throw into a 49-yard touchdown on the game's opening drive, and added a 12-yard scoring run to give the Nittany Lions a 14-0 lead in the second quarter.
Penn State (2-0) throttled Syracuse's running game early. Paulus, the former Duke basketball player, finished 14-of-20 for 105 yards with one touchdown and two interceptions.
No. 9 Brigham Young 54, Tulane 3
New Orleans — Max Hall threw two touchdown passes, Bryan Kariya scored twice, and Brigham Young crushed Tulane.
The Cougars (2-0) got off to a sluggish start following their big victory over Alabama, managing only two field goals by Mitch Payne in the first quarter. BYU began hitting its stride just before halftime, building a 20-3 lead.
BYU had 527 yards of total offense, including 206 on the ground. Tulane (0-2) was held to 162 yards and managed only 37 yards rushing on the afternoon.
No. 10 California 59, Eastern Washington 7
Berkeley, Calif. — Jahvid Best rushed for 144 yards and scored two touchdowns to make sure California avoided a letdown against Eastern Washington.
Best caught a 22-yard touchdown pass from Kevin Riley in the first half and scored on a one-yard run in the third quarter for the Golden Bears (2-0). Riley also ran for a touchdown, and Shane Vareen had three short TD runs as Cal posted its second straight blowout to open the season.
The Bears started the season with a 52-13 victory over Maryland.
No. 11 LSU 23, Vanderbilt 9
Baton Rouge, La. — Keiland Williams rushed for 72 yards and LSU's only two touchdowns in a victory over Vanderbilt on a rain-soaked night.
The Commodores (1-1, 0-1 SEC) trailed by only one touchdown midway through the fourth quarter as they attempted to win in Tiger Stadium for the first time since 1951.
Larry Smith scored Vanderbilt's only touchdown on a six-yard quarterback keeper in the first half. Vanderbilt freshman Zac Stacy rushed for 89 yards.
No. 12 Boise State 48, Miami, Ohio 0
Boise, Idaho — Kellen Moore threw four touchdown passes, including a pair to Titus Young, as Boise State rolled to a victory over a young and struggling Miami team still searching for its first points of the season.
The Broncos (2-0) were never really challenged by the rebuilding RedHawks (0-2), who were shut out, 42-0, in last week's opener against Kentucky.
No. 14 Virginia Tech 52, Marshall 10
Blacksburg, Va. — Freshman Ryan Williams ran for 164 yards and three touchdowns, and Virginia Tech more than tripled its offensive production from last week in a rout of Marshall.
The Hokies (1-1) managed only 155 yards in their opener against Alabama, but that tally was topped before the end of the first quarter against the Thundering Herd (1-1).
No. 16 TCU 30, Virginia 14
Charlottesville, Va. — TCU held Virginia's new spread offense to seven first downs, and the Horned Frogs breezed to a victory in their season opener.
Virginia (0-2) largely avoided the turnover problems that led to their opening loss to William and Mary, but couldn't get anything going against the stout TCU defense.
Michigan 38, No. 18 Notre Dame 34
Ann Arbor, Mich. — Tate Forcier threw a five-yard touchdown pass to Greg Mathews with 11 seconds left, lifting Michigan to a victory over Notre Dame.
Armando Allen ran for a touchdown and got the two-point conversion on a nifty Statue of Liberty play with 5:13 left after Jimmy Clausen threw his third touchdown pass to give the Fighting Irish (1-1) the lead, but their defense could not deny Forcier and the Wolverines (2-0).
No. 19 North Carolina 12, Connecticut 10
East Hartford, Conn. — Connecticut's Dan Ryan was called for holding in the end zone with 1:32 left in the game, giving North Carolina a safety and a comeback victory over the Huskies.
The Tar Heels (2-0) overcame a 10-0 deficit entering the fourth quarter.
No. 21 Georgia 41, South Carolina 37
Athens, Ga. — Rennie Curran broke up a fourth-down pass at the goal line with 22 seconds remaining, and Georgia held off South Carolina in a wild game.
The nearly four-hour contest wasn't decided until Curran, a linebacker, batted down Stephen Garcia's final throw on fourth-and-four at the Georgia seven.
The Bulldogs (1-1, 1-0 SEC) avoided their first 0-2 start since 1996. South Carolina (1-1, 0-1) was hurt by a blocked extra point after its final touchdown.
No. 23 Cincinnati 70, SE Missouri State 3
Cincinnati — Mardy Gilyard scored four touchdowns as part of the third-best scoring performance in Cincinnati's history, reaching the end zone on an electrifying punt return, a run and two catches.
A quick-strike offense scored every which way during a 49-point first half, the biggest in coach Brian Kelly's three seasons at Cincinnati.
Copyright 2018 The Associated Press. All rights reserved. This material may not be published, broadcast, rewritten or redistributed. We strive to uphold our values for every story published.