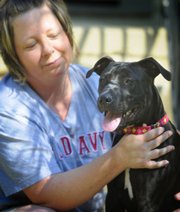 Salina — Salina animal control officers knew the dog they saw looked like a pit bull.
It didn't matter that the dog in question, Angie Cartwright's family pet, Lucey, had never bitten anyone, or acted aggressively.
When Cartwright's brother's dog, which she was pet sitting, got loose from her yard someone called animal control.
The officers explained that they were taking Lucey to a veterinarian for a breed check — a professional opinion to determine Lucey's breed. Since 2005, Salina has banned owning unregistered pit bulls and mixed breeds that are predominantly pit bull.
Today, Lucey is back home, and Cartwright credits a genetic test kit that helps pet owners identify the heritage of their mixed-breed dogs. The test showed that Lucey had no more than 12.5 percent each of bull terrier, boxer, and Staffordshire Bull Terrier DNA. The largest percentage of DNA, 25 percent, was Bernese Mountain Dog.
"Maybe this can save someone's animal, hopefully," Cartwright said.
Without the test results, Cartwright and her family would have been faced with finding Lucey a home outside of Salina, or leaving her at the animal shelter to be either adopted or destroyed.
There are at least three retail genetic tests for dogs currently on the market. One of those is the Wisdom Panel MX mixed breed analysis.
Wisdom Panel is the only one that uses a blood test; the other two use cheek swabs for samples of DNA.
Wisdom Panel classifies breed percentages as significant, intermediate and minor. The company claims to be able to detect, at present, 157 different American Kennel Club breeds.
Cartwright asked the animal control officers if she could check with her own vet, Karen Hale Young, owner of Town & Country Animal Hospital, for a second opinion.
"I said, 'Do you guys do DNA testing on dogs?' It was actually just a grasp. We didn't want her to go, we didn't want her to be put to sleep. I was angry and upset, and I was just trying to find a different solution," Cartwright said.
Young started offering the test to her customers after trying it out on one of her own dogs.
Rose Base, director of the Salina Animal Shelter, accepts the test results.
"It's provided through a veterinary clinic. And if they're that strongly supporting something like that, we feel it must be a quality product," Base said.
Salina veterinarian David Atherton offers the Wisdom Panel test to his customers curious about their dog's characteristics. He said he thinks the test has validity.
"If I was going to have a beloved dog taken away, I would demand it," he said.
Other Salina veterinary clinics said they did not offer genetic mixed-breed dog testing.
Although the companies include the disclaimer against using the test to enforce breed laws, Young thinks that issue will surface in a court of law somewhere, eventually.
"This is so much in its infancy, no one knows where it's going or what we're going to do," Young said.
Copyright 2018 The Lawrence Journal-World. All rights reserved. This material may not be published, broadcast, rewritten or redistributed. We strive to uphold our values for every story published.