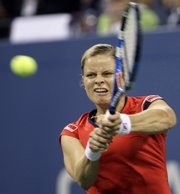 New York — Serena Williams' U.S. Open title defense ended in bizarre, ugly fashion Saturday night, when she was docked a point on match point after yelling and shaking her racket in the direction of an official who called a foot fault.
Williams lost to unseeded, unranked Kim Clijsters, 6-4, 7-5, in a taught semifinal.
With Williams serving at 5-6, 15-30 in the second set, she faulted on her first serve. On the second serve, a line judge called a foot fault, making it a double-fault. That made the score 15-40, putting Clijsters one point from victory.
Williams went over and shouted at the line judge, who walked over and reported it to the chair umpire. That led to the chair umpire awarding a penalty point to Clijsters, ending the match.
Williams already had been given a code violation warning when she broke her racket after losing the first set.
In the final, 2005 champion Clijsters will play No. 9 Caroline Wozniacki, who beat Yanina Wickmayer, 6-3, 6-3.
GOLF
Woods up by seven at BMW
Lemont, Ill. — Tiger Woods dropped his 3-wood in disgust after his first tee shot Saturday sailed left into the bunker for another sloppy bogey. Four hours later, he finished off his best round of the year to build a seven-shot lead in the BMW Championship.
Getting better with every shot, Woods broke the course record at Cog Hill with a 9-under 62 and blew away the 68-man field in the third FedEx Cup playoff event.
His also tied the tournament record, set last year by Jim Furyk outside St. Louis at Bellerive.
Woods was at 16-under 197 and had his largest lead on the PGA Tour since he was eight shots in front in the Buick Invitational at Torrey Pines early last year.
He will play in the final pairing today with Brandt Snedeker, who had a 66. Marc Leishman had a 68 and joined Snedeker at 9-under 204, both of them hopeful of finishing high enough to get into the Tour Championship. More than being his lowest round of the year, the true measure was that Woods shot eight shots better than the average score.
Kim leads LPGA event
Rogers, Ark. — Song-Hee Kim finished with a 3-under 68 Saturday for a two-shot lead over Angela Stanford at the P&G; Beauty NW Arkansas Championship. Kim is at 9 under for the tournament heading into the final round. Stanford shot a 69. Na Yeon Choi shot a 65 for the day's low round and was tied for third with two other players, a stroke behind Stanford.
U.S. leads Walker Cup, 8-4
Ardmore, Pa. — The United States moved closer to winning its third straight Walker Cup behind the strong play of Rickie Fowler on Saturday, taking an 8-4 lead over Great Britain and Ireland at Merion Golf Club.
Hanson leads in Germany
Cologne, Germany — Peter Hanson of Sweden leads three players by one stroke at the Mercedes-Benz Championship after shooting a 5-under 67 in the third round. Hanson was at 11-under 205.
SOCCER
Wizards blank Red Bulls
East Rutherford, N.J. — Josh Wolff scored his ninth goal of the season early in the first half, and Kevin Hartman got his sixth shutout of the season in the Kansas City Wizards' 1-0 win Saturday over the New York Red Bulls.
AUTO RACING
Hamlin wins at Richmond
Richmond, Va. — Denny Hamlin finally has won at Richmond International Speedway, but it was a bittersweet victory celebration for Joe Gibbs Racing as teammate Kyle Busch didn't make the Chase for the championship.
Hamlin won at his home track for the first time, while Busch finished fifth. But it wasn't enough as Brian Vickers finished seventh to claim the 12th and final spot the Chase.
Busch, despite four victories this season, fell eight points short of making the Chase. It's the smallest margin since the format began in 2004. Matt Kenseth started the race holding down the final qualifying spot, but had an awful night and finished 25th to drop out of contention.
Skinner wins truck race
Madison, Ill. — Mike Skinner didn't start on the pole this week, but the result was the same. Skinner started ninth Saturday and won the Copart 200 in a Camping World Trucks Series race at Gateway International Raceway that was marred by late crashes. A week ago, Skinner won the first trucks race at the Iowa Speedway, dominating the field from the pole for his second victory of the year and 27th overall.
NFL
Seymour to join Raiders
Alameda, Calif. — Richard Seymour ended his five-day sit-out and will join the Oakland Raiders on Saturday, saying he was initially "blindsided" by the trade from the New England Patriots.
Seymour was acquired last Sunday for a 2011 first-round pick but did not report to the Raiders, raising speculation he did not want to join Oakland.
In his first public comments since the deal, Seymour told the Boston Herald on Saturday that he was taken aback when coach Bill Belichick told him of the trade, which is sending him from one of the NFL's model franchises to the one with the worst record over the last six years.
CYCLING
Italian wins Missouri stage
St. Joseph, Mo. — Italian Francesco Chicchi won the sixth stage of the Tour of Missouri. Chicchi, riding for Liquigas-Cannondale, completed Saturday's 110.3-mile stage in a time of 3 hours, 41 minutes, 41 seconds. He received a special Pony Express statue from St. Joseph Mayor Ken Shearin.
American David Zabriskie, riding for Garmin-Slipstream, finished in the pack, but retained the Missouri Tourism Leader's Jersey.
The riders finish with a circuit stage today in Kansas City.
BASEBALL
Smoltz to miss next start
St. Louis — Cardinals right-hander John Smoltz is being held out of his scheduled start Monday against the Florida Marlins because of shoulder tendinitis.
Hampton schedules surgery
Houston — Astros left-hander Mike Hampton has scheduled his left shoulder surgery for Tuesday in New York. Hampton was placed on the disabled list Aug. 14 and decided about two weeks later to have the season-ending surgery. Hampton has a significant partial thickness tear of his left rotator cuff.
NBA
T'wolves sign Sessions
Minneapolis — The Minnesota Timberwolves have signed guard Ramon Sessions, after the Milwaukee Bucks declined to match their $16 million, four-year contract offer to the restricted free agent.
Copyright 2018 The Associated Press. All rights reserved. This material may not be published, broadcast, rewritten or redistributed. We strive to uphold our values for every story published.