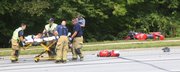 A motorcyclist was injured Friday afternoon when he drove into the back of a car that was turning off Bob Billings Parkway onto St. Andrew's Drive.
A Life Star helicopter flew the 24-year-old motorcyclist to a Kansas City area hospital with severe but nonlife-threatening injuries, according to Lawrence police Sgt. Bill Cory.
Cory said the accident occurred as the motorcyclist ran into the back of a vehicle driven by a 27-year-old Lawrence woman who was slowing to turn left onto St. Andrew's Drive. Cory said witnesses told police that before the accident the motorcyclist was weaving in and out of traffic at a high rate of speed.
Copyright 2018 The Lawrence Journal-World. All rights reserved. This material may not be published, broadcast, rewritten or redistributed. We strive to uphold our values for every story published.