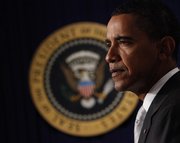 Fewer Kansans uninsured in 2008
A new report says fewer Kansans lacked health insurance last year than in 2007.
The U.S. Census Bureau said Thursday that 330,000 Kansans were without coverage in 2008, a drop of 4 percent from the 345,000 uninsured in 2007.
Kansas was one of 20 states in which the percentage either dropped or remained the same from 2007 to 2008.
Overall, the report said 12.1 percent of Kansans lacked health insurance last year, compared with 15.4 percent nationwide.
Washington — The number of Americans covered by government-sponsored health insurance plans surged to 87.4 million last year — or 29 percent of the U.S. population — amid a fierce, national debate about whether to create a new U.S.-run plan that any American could join.
The number of people covered by federal Medicaid, Medicare and military insurance plans was an increase from 83 million in 2007, according to census figures released Thursday. It partially offset the eighth straight year of declines in the percentage of people with employer-provided plans and highlighted the growing role of a government-offered insurance safety net.
Overall, the number of Americans without health insurance rose modestly to 46.3 million last year, up from 45.7 million in 2007. The poverty rate hit 13.2 percent, an 11-year high.
"The last decade has been marked by a steady increase in public insurance programs," said Mark McClellan, director of the Engelberg Center for Health Care Reform at the Brookings Institution. "People are certainly having more difficulty affording health insurance."
Public option skeptics
President Barack Obama is making a renewed push to pass sweeping health care legislation, including the "public option," a government-run plan that could compete with private insurers and would be designed to keep them honest in lowering costs and expanding coverage. The proposal has drawn stiff opposition from Republicans, who say it would squeeze out private insurers.
While supporting a public option, Obama has indicated that it would not be essential, a concession to the national divide over whether such a U.S. plan could work.
"I'm not for a government run health plan. I just don't think the government is capable of running it efficiently," Catherine Shaw, a Medicare user in Audubon, N.J., said in opposing a bigger government role in providing health care. "There's so much overpaying for doctors, hospitals. They make mistakes. No one's checking that. Sometimes people are double billed, triple billed."
Government role growing
Still, a growing role for government health care is already afoot, according to census data.
For example:
• Numbers of people with employment-based health insurance declined from 177.4 million to 176.3 million in 2008.
• The number of uninsured children declined from 8.1 million, or 11.0 percent, in 2007, to 7.3 million, or 9.9 percent, in 2008. Both the rate and number of uninsured children are the lowest since 1987, the first year that comparable health insurance data were collected. The main reason: Recent expansions of government Medicaid and children's health insurance programs.
• The number of adults under age 65 without health insurance — in other words, those not eligible for Medicare programs — is rising. About 20.3 percent of adults 18-64 were uninsured in 2008, up from 19.6 percent in 2007, or an additional 1.5 million adults.
• During the past decade, the number of privately insured Americans increased by 0.1 percent, climbing from 200.7 million to 201 million. Meanwhile, the number of Americans who rely upon the government for their health insurance soared 29 percent, from 67.7 million to 87.4 million.
Numbers going up
Analysts warned that increases in the overall numbers of the uninsured were likely to be just the beginning. Based on current job losses, some researchers estimate the present-day number of uninsured is closer to 50 million. That's the number now cited by the Congressional Budget Office and it could continue to grow without meaningful reform.
Diane Rowland, executive vice president of the Kaiser Family Foundation, cited the proliferation of small businesses, which typically decline to offer insurance because of rising premium costs. That could lead to additional declines in private insurance even if the economy improves.
"The good news is we saw more kids getting coverage through public programs," she said. "But the number of adults going without health insurance is increasing, and we haven't even yet seen the full effect of the job changes."
Calling the current health system unsustainable, Rowland said a "public option" could be an important feature of an insurance exchange now being proposed in Congress because it could help make insurance more affordable to small businesses while expanding coverage to those who need it the most.
Copyright 2018 The Associated Press. All rights reserved. This material may not be published, broadcast, rewritten or redistributed. We strive to uphold our values for every story published.