Library to close
The Lawrence Public Library will be closed Monday, except for a public event that will go on as scheduled that evening.
The closure will allow employees to attend funeral services for Joyce Steiner, who died Thursday. She had worked at the library for 32 years, including the past nine as youth services coordinator. "We want to show her the respect she's due," said Bruce Flanders, library director.
The library's auditorium will be open for a performance at 7 p.m. Monday by Wang Jianxin and Li Fengyun, musicians and professors of music at Tianjin Conservatory of Music in China. The library's south doors will open at 6:30 p.m. for the concert.
The free performance is co-sponsored by the Center for East Asian Studies at Kansas University.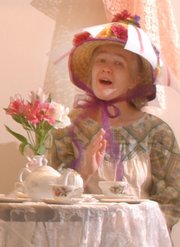 Whether driving her cardboard car or talking with her ever-present puppet dog, Dewey, Joyce Steiner may have stepped out of her traditional librarian persona but always kept her eyes on the road ahead.
The destination: encouraging babies, toddlers, children and youths to enjoy, embrace and continue reading.
"It's like a different personality comes out when Joyce tells stories," said Bruce Flanders, director of the Lawrence Public Library. "She shifts into storytelling mode and she's no longer the calm Joyce of the day-to-day interactions with staff, but she becomes Super Joyce — and the kids just love her.
"She's just going to be greatly, greatly missed."
Steiner, the library's longtime director of youth services, died Thursday at Stormont-Vail Regional Medical Center in Topeka. She was 56.
During her 32 years at the library, virtually all of it working in youth services, Steiner helped broaden and strengthen the library's longtime commitment to young readers, Flanders said. Steiner traveled to schools to tell stories in costume; bolstered collections to keep up with the times; and launched innovative programs, such as "Books & Babies," to encourage children to read as often and as early as possible.
The youngsters might not have known her name — many simply called her "the braid lady," because of her signature hairstyle — but the reach of Steiner's work was practically unavoidable.
"In 32 years, I would say easily 50,000 children have used the library over that time, in terms of their participation in the summer reading programs," Flanders said. "That's a lot of lives to have touched. It's tens of thousands."
Steiner was active in the Northeast Kansas Library System, often leading seminars to help educate other library professionals in ways to connect with young people.
Her dedication to children extended beyond books. She served on the board of directors for the Success by 6 Coalition of Douglas County, leading its Public Awareness Implementation Group and working to foster books and reading programs in child-care centers, family child-care homes and beyond.
People throughout Lawrence will remember Steiner as someone who encouraged them in their parenting through books and reading, said Rich Minder, the coalition's collaborative projects coordinator.
"That's the legacy that's going to live on," Minder said. "It's not hard to look around the community and find somebody whose family life has been positively influenced with the role that she played with the library and in the community."
Copyright 2017 The Lawrence Journal-World. All rights reserved. This material may not be published, broadcast, rewritten or redistributed. We strive to uphold our values for every story published.