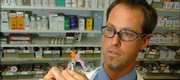 An outbreak of H1N1 Swine Flu was reported in Mexico in April 2009. By the end of May, it had spread across the U.S., with all 50 states reporting cases.
Washington — Good news in the world's flu fight: One dose of the new swine flu vaccine looks strong enough to protect adults — and can spark protection within 10 days of the shot, Australian and U.S. researchers said Thursday.
Australian shot maker CSL Ltd. published results of a study that found between 75 percent and 96 percent of vaccinated people should be protected with one dose — the same degree of effectiveness as the regular winter flu shot. That's remarkable considering scientists thought it would take two doses.
U.S. data to be released today confirm those findings and show the protection starts rapidly, Dr. Anthony Fauci of the National Institutes of Health told The Associated Press.
"This is quite good news," Fauci said.
The dose question has an important ramification: It means people will have to line up for influenza vaccinations twice this year instead of three times — once for the regular winter flu shot and a second time to be inoculated against swine flu, what doctors call the 2009 H1N1 strain.
Thursday's swine flu vaccine reports center on adults; studies in children aren't finished yet.
Copyright 2018 The Associated Press. All rights reserved. This material may not be published, broadcast, rewritten or redistributed. We strive to uphold our values for every story published.