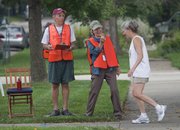 An army of volunteers spent several hours Thursday charting, mapping and otherwise quantifying the frequency of walkers and bicyclists moving throughout Lawrence.
No surprise there.
But the data — now just small marks in pencil and pen on one-page charts — soon will be entered into a national database capable of correlating Lawrence's snapshot samples into a reliable documentation of use, frequency and latent demand.
The expected payoff: Hard data that can be used to drive plans and justify financing for a variety of pedestrian- and bicycle-friendly projects, from installation of "Share the Road" awareness signs to construction of full-fledged bike lanes and recreational paths.
"Bicyclists do have every right to be on the road," said Bart Rudolph, transportation planner for the Lawrence-Douglas County Planning Office. "The more bike lanes we can install, the more safe it will be."
Rudolph coordinated Thursday's effort, as more than 30 volunteers spread out to 11 locations to document just how many people were walking and bicycling during two identified peak periods: 10 a.m. to noon and 5 p.m. to 7 p.m.
The data collected Thursday — plus more to be documented during a weekend count, scheduled for 10 a.m. to noon Saturday — will be fed into a database maintained by Alta Planning & Design and the Institute of Transportation Engineers. Rudolph plans to use the data to support grant applications for future projects.
For two hours, Larry Maxey, a retired KU professor of music, counted cyclists and pedestrians along Naismith Drive just north of 19th Street. While he was expecting to see more cyclists early in his 10 a.m. to noon shift, one constant already had identified a need: cyclist education.
"Nobody's wearing a helmet," Maxey said, once again leaving a column blank on his clipboard, as yet another helmetless rider passed. "Not good."
Kelly Barth, another volunteer counter, dutifully observed riders and walkers at the northern end of Massachusetts Street, where it becomes a bridge crossing the Kansas River.
She's confident that information gathered Thursday will pay off.
"If we have a chance to get funding for pedestrians and cyclists — for sidewalks and paths — that's fantastic," she said. "Anything I can do to help is worth it."
Copyright 2018 The Lawrence Journal-World. All rights reserved. This material may not be published, broadcast, rewritten or redistributed. We strive to uphold our values for every story published.