Photo Gallery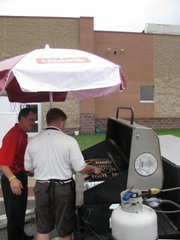 2009 Main Street Live: Tonganoxie
6News brought its 6 p.m. newscast to Tonganoxie on Wednesday. The next three Wednesday will see 6News come to Basehor, Lawrence and Eudora for live broadcasts.

6News Lawrence will be bringing its 6 p.m. broadcast to four communities across northeast Kansas in September. Find out all the details.
More than one hundred Tonganoxie residents turned out for a live broadcast of 6News' 6 p.m. broadcast Wednesday night
The broadcast included news, sports and features targeted at Tonganoxie, in addition to general news and weather of the day. The newscast also included live interviews with Tonganoxie High football coach Mark Elston and Tonganoxie City Administrator Mike Yanez.
Those who attended were also treated to free brats, from Johnsonville, and free soda and water from Pepsi. They were also able to record a special message telling the world what they think is special about their hometown.
Tonganoxie was the first of four communities where 6News will have a live news broadcast during the month of September. In the next three weeks, 6News will be in parks in Basehor, Lawrence and Eudora to broadcast live newscasts. Each broadcast will be at 6 p.m. on Wednesday.
Copyright 2018 The Lawrence Journal-World. All rights reserved. This material may not be published, broadcast, rewritten or redistributed. We strive to uphold our values for every story published.