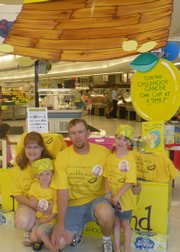 A chance meeting in Lawrence between two people has turned into what organizers hope is a fun-filled Saturday for families in the region who have been affected by childhood cancer.
Ken Waldock, 64, owns a 40-acre hilly farm near Eudora that has treehouses, a recreation building and pond. His mission is to provide unique indoor and outdoor spaces for nonprofit organizations that benefit children.
He read the story about Alexandra "Alex" Scott, a Pennsylvania girl who started a lemonade stand at age 4 to raise money to help doctors find a cure for children with cancer. In four years, she raised her goal of $1 million before dying of the disease in 2004.
Since then, lemonade stands have taken place nationwide in her honor and have helped raise $25 million for Alex's Lemonade Stand Foundation. One such stand was in Lawrence on the first weekend in June, and Waldock stopped by to offer his farm for a day as a treat for children affected by cancer.
Luckily, Kara Cunningham, Baldwin City, was volunteering at the stand that morning. She knew the potential of such an offer because she has a 4-year-old son, Lane, who is in remission after battling neuroblastoma, a tumor that develops from nerve tissue.
"I am so glad that he ran into me," she said.
The next weekend Cunningham and her family — husband Todd, 6-year-old daughter Lakin, and Lane — stayed in a cabin on Waldock's Fall Leaf Farm. The next morning, the brainstorming began. Within weeks they had donations, volunteers, entertainment and a date set.
Sept. 12 — National Childhood Cancer Awareness Day — was an obvious choice for Waldock and his wife, Marilyn, and he rearranged plans to make it work.
"They are just amazing. They are the some of the most generous people that I have ever met in my life and this wouldn't have happened without them," Cunningham said.
She said organizers were hoping the event — which includes pony rides, hayrack rides, live music, carnival games, crafts and fishing — would attract 50 people. They would consider 250 people a giant success.
"We never dreamed it would be larger than that," she said. But, nearly 400 people have made reservations, including Alex Scott's mother, Liz, of Philadelphia, who will be speaking during a ceremony that will celebrate and memorialize the children affected by cancer.
Also speaking will be Weston Funk, a 12-year-old cancer survivor from Olathe.
"It's going to be a day of fun away from the hospital. I mean they don't get to experience a normal childhood — they just don't, and I know that from my son and my family's experience," Cunningham said. "It's going to give the children and their parents and their siblings a day to just have fun and not have to worry about the costs."
Copyright 2018 The Lawrence Journal-World. All rights reserved. This material may not be published, broadcast, rewritten or redistributed. We strive to uphold our values for every story published.