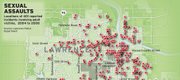 In the past five years, more than 450 adult sexual assaults have been reported in Lawrence. There's a rape in Lawrence every four days. Each case represents an instance where someone's life has been irrevocably changed. LJWorld.com, the Lawrence Journal-World and 6News are taking a deeper look at what those numbers really mean.
New details emerged Wednesday about a serial rapist whom law enforcement has connected to 13 attacks in Lawrence and Manhattan dating back to 2001.
The man is likely spying on women before engaging in what have been described as lengthy attacks against them, Kansas Attorney General Steve Six said during a forum on personal safety at Kansas University.
Six also said it's likely people have noticed suspicious behavior from the suspect before an attack, and he reminded the public that it's important to call police about any unusual activity.
"If you see somebody loitering around an apartment complex, if you see somebody who's not supposed to be there, you see somebody who's suspicious, call police," Six said.
The attorney general was joined by top local law enforcement and university officials during the forum, which was attended by more news reporters and officers than students. A second forum was scheduled for Kansas State University in Manhattan for later in the day.
Students received information from a Lawrence police officer about protecting against sexual assaults, including information about making a decision on submitting to an attack or resisting it.
"If you decide to submit to the attack, you need to make that decision quickly, because your life may depend on that," said Tina Shambaugh, Lawrence police officer.
Students were told they should make themselves less vulnerable, by screaming, for example. Forum leaders also suggested other, less well-known ways to possibly deter an attack — such as the victim vomiting or defecating on herself or telling the attacker that she has AIDS.
The forums at KU and K-State were scheduled for students in response to the new school year and the ongoing problem with sexual assaults in the community, which Six called "a very concerning situation."
Lawrence police have connected five rapes in Lawrence, which have occurred between about 2 a.m. and 4 a.m. In the most recent attack, which occurred Dec. 1, 2008, a 19-year-old KU student was attacked by a man who entered her home with a handgun.
Authorities have said the victims, time and manner of the attacks are similar in the string of rapes. All of the rapes in Lawrence and a majority of the rapes in Manhattan have occurred while students were on a break from school.
The suspect has always had his face covered in some way and has been armed during the attacks.
Six would not comment Wednesday on the status of law enforcement officers' investigations in the string of rapes. A Kansas Bureau of Investigation representative confirmed the agency was in Manhattan last month investigating the case.
Lawrence police have said the case is one of their top investigations.
"It is something that we're putting a lot of resources toward," said Sgt. Bill Cory, Lawrence police spokesman. "We have a lot of investigators working on it, and it will continue to be that way until it's solved."
Copyright 2017 The Lawrence Journal-World. All rights reserved. This material may not be published, broadcast, rewritten or redistributed. We strive to uphold our values for every story published.