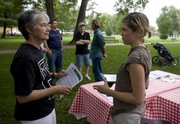 Free State Brewing Co.'s executive chef and Pachamama's catering coordinator teamed up on Labor Day to host a community potluck lunch in South Park to raise awareness about eating locally.
Slow Food USA, the national arm of a global grassroots group that urges people to support their community and environment through eating locally, designated Labor Day as the National Day of Action to get real food in schools.
"It's not a lifestyle. It should be a necessity with what we do and how we eat," said Rick Martin, the executive chef at Free State Brewing, 636 Mass. Last year, he purchased over $250,000 in local items for the restaurant, including bread, meat, cheese and other produce.
Event coordinator Dana Hangauer, the catering coordinator at Pachamama's, 800 N.H., said she feels like she's eating clean and healthy when she goes local.
"I feel like I'm supporting my community," Hangauer said. "I really believe in the cause and just felt like Lawrence is a prime community to put something like this into effect."
State Sen. Marci Francisco, D-Lawrence, Douglas County Commissioner Nancy Thellman and school board member Vanessa Sanburn attended the event, along with about 30 other people.
The organizers said they hope the event brings some awareness to the benefits of getting food from local producers.
"There's so many people in this community that I think believe in this and want to do something about it," Hangauer said.
Copyright 2018 The Lawrence Journal-World. All rights reserved. This material may not be published, broadcast, rewritten or redistributed. We strive to uphold our values for every story published.